How the internet's favorite rainbow pasta came to be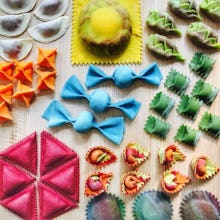 Linda Miller Nicholson's chickens once ate Katy Perry.
Well, actually, Nicholson's chickens ate a portrait of Katy Perry that was made from homemade pasta. Still confused? Let's back up.
Nicholson, a 39-year-old Seattle-based blogger and Instagrammer whose first cookbook Pasta, Pretty Please will be published by Harper Collins in October 2018, rose to Internet fame by way of her homemade pastas, which she makes in every shape, color and pattern imaginable. Her vibrant pastas wouldn't look out of place in a Dr. Seuss book: Green spaghetti alla chitarra, rainbow farfalle, stripped garganelli and polka dot raviolis are all featured on her feed. As for the chickens-eat-celebrity tale? Nicholson was recently commissioned by Katy Perry's team to create an album cover made from pasta.
"I probably shouldn't post this," Nicholson giggled as she showed me a video of her backyard chickens going to town on the pasta portrait after the commission project was over.
When I visited Nicholson in her home outside of Seattle in November, her 32 chickens squawked and ruffled around in their roost as snow drifted lazily down. In Nicholson's modern kitchen, we chatted about her lifelong love of pasta, and how she came to be known for vibrant, whimsical masterpieces she posts on social media.
Nicholson began making pasta when she was just four years old, when her grandparents helped her roll out pastas with a rolling pin. She has been a vegetarian for 20 years and pasta — with its comforting, hearty texture — was always a staple in her diet. She had the opportunity to immerse herself in pasta culture twice: when she moved to Italy for six weeks after graduating high school and when she lived in Italy for several years before moving to Washington state.
"I tried to get invited to old ladies' houses to learn pasta making," she said of her time in Italy. Back in her Seattle kitchen, Nicholson can passionately describe the virtues of countless pasta shapes. There's beloved farfalle and spaghetti, but also lesser known shapes like "ingannapreti," which roughly translates to "trick the priest." Nicholson said a lot of pasta names reference priests, and this specific pasta allegedly deceives the priest because the tubular, cappelletti-like pasta looks it should be filled but it isn't.
"[My son] is basically the impetus behind my career," Nicholson said, explaining that Buckley was a picky eater as a five year old, which inspired her to sneak vegetables into his diet. Blending up vegetables like peas and spinach and adding the colorful mixture to homemade pasta dough proved transformational — her son liked eating colorful pastas and playing with the bright doughs.
"When I see ingredients, the first thing I think is, 'Will it pasta?" - Linda Miller Nicholson
"When I see ingredients, the first thing I think is, 'Will it pasta?'" Nicholson said. Through experimentation, she has discovered how to create an entire palette of pastas by using different ingredients. Beets can be used to make a pink dough, and adding harissa makes the dough a bit more red. Blue was a tough one to achieve — Nicholson ordered butterfly pea flowers that make a brilliant, deep blue when soaked in water. When making blue, Nicholson doesn't use eggs because a yellow yolk would make the blue turn green.
More pasta experimentation led to pasta patterns — like rolling two thin pasta layers together to create two-tone pastas or rolling together thin colored strips of dough to create striped pastas. She later began making fine art pieces — like a recreation of "Starry Night" made from noodles — for her blog and Instagram.
I watched as she assembled a stick-figure mermaid with spaghetti red hair and a pink farfalle bikini top. (She had drawn it out on a piece of paper before she began rolling out and assembling the pasta.)
She's tried her hand at recreating historical masterpieces with noodles.
Her art isn't all for entertainment's sake; sometimes, there's a more serious messaging behind it. "We need art more than anything," she said. "I want to make people think. That's always been my secret goal."
This manifests in ways that are both serious and lighthearted: She posted photo of stick figures with different body shapes has a body-positive caption, she staged a giveaway with a pride pasta sheet for lasagna and recently, she posted a photo of Tide Pod ravioli, a cheeky reference to the Tide Pod meme sweeping the internet.
As with anything that becomes popular on the internet, Nicholson has collected some haters. Commenters sometimes chastise Nicholson because they think she's using food dyes with artificial ingredients. Others shame her for using eggs. ("It makes me sad when the vegans come after me," Nicholson said.) And still others are mad that she strays so far from pasta traditions.
"When you're changing something, that can be uncomfortable for some people who are used to it being a certain way," she said. She acknowledged some people who are fed up with the "rainbow foods" that quickly invaded and overwhelmed social media feeds. "But there are so many better things to do than hate. I'm used to people liking or disliking me," she said. When someone posts that they think she's an awful person for using eggs or coloring her doughs, she said, "it's more the shock of, 'Wow, you hate pasta.'"