Republicans won't pass a DACA fix until Trump tells them what he supports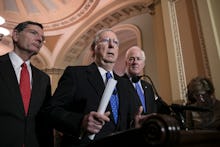 Senate Majority Leader Mitch McConnell said Wednesday he would not put a bill addressing the soon-to-expire Deferred Action for Childhood Arrivals program up for a vote until President Donald Trump made clear what kind of immigration fix he would sign.
"I am looking for something that President Trump supports, and he has not yet indicated what measure he is willing to sign," McConnell told reporters on Capitol Hill, after he was asked why he wouldn't put up the immigration bill already released by a bipartisan group of senators. "As soon as we figure out what he is for, then I would be convinced that we were not just spinning our wheels."
McConnell's admission that he's waiting on Trump to lead before putting a DACA bill on the floor is an ominous sign for DACA supporters and recipients, who want to codify DACA protections into law before the program expires March 5.
DACA allows roughly 800,000 undocumented immigrants who were brought to the U.S. as children the ability to live and work in the country legally. If Congress allows DACA to expire, those DACA recipients could face deportation.
Waiting for Trump to explicitly tell Congress what bill he'd sign is risky. Trump has repeatedly changed his mind on what kind of immigration legislation he supports, including during a meeting at the White House with a bipartisan group of senators Jan. 10.
Trump suggested he'd sign everything from a clean DACA bill — legislation that dealt specifically with a permanent DACA fix — to comprehensive immigration reform, which Congress has been unable to accomplish for years.
The president ended that meeting suggesting he wanted Congress to come to him with a plan.
"I think my positions are going to be what the people in this room come up with," Trump said at the end of the meeting. "I am very much reliant on the people in this room. I know most of the people on both sides. I have a lot of respect for the people on both sides. And my — what I approve is going to be very much reliant on what the people in this room come to me with."
A bipartisan group of Senators indeed came up with a plan, which was released Thursday.
That plan would allow DACA recipients to stay legally in the U.S. and give them a pathway to citizenship, but would curb so-called "chain migration" by not allowing those DACA recipients to sponsor family members for citizenship. The bill would also end the diversity visa lottery — the program which Trump has railed against that provides entry for immigrants from countries with lower levels of immigration — and would give Trump a $1.6 billion down payment for the physical border wall he promised.
In short, the bill was a compromise that had a little something for everyone.
But Trump shot it down the same day at a now-infamous meeting in which he suggested African immigrants came from "shithole countries" and wouldn't "help the United States" as much as immigrants from countries like Norway would, according to the Washington Post.
That racist outburst has consumed Capitol Hill, which is struggling to come up with a plan to fund the government before current funding runs out at midnight Friday.
"This has turned into an s-show and we need to get back to being a great country," Sen. Lindsey Graham (R-S.C.), who was in the infamous "shithole" meeting and who supports a bipartisan compromise bill, said Tuesday at a Senate Judiciary Committee hearing on the status of an immigration bill.