Dylan Farrow speaks about allegations against Woody Allen in new interview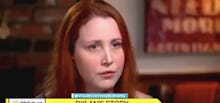 In her first television interview about the subject, 32-year-old Dylan Farrow detailed alleged abuse by her adoptive father, actor and director Woody Allen, talked about why the #MeToo movement is the right time for her to speak up again and called on actors who continue to work with Allen to reconsider.
Speaking to Gayle King on CBS This Morning, Farrow again described the specifics of her allegations against Allen — allegations that have been public for decades and that she detailed in a 2014 open letter in the New York Times.
The abuse allegedly took place in August 1992, when Farrow was 7. "I was taken to a small attic crawl space in my mother's country house in Connecticut by my father. He instructed me to lay down on my stomach and play with my brother's toy train that was set up. And he sat behind me in the doorway, and as I played with the toy train, I was sexually assaulted."
Allen was never charged with a crime, and in a statement to CBS he again denied the allegations and implied that Farrow had been "coached" by her mother, actress Mia Farrow, into saying that he had abused her. (Farrow and Allen were involved in a contentious and public breakup in August 1992, after Mia Farrow discovered that Allen had been having a relationship with another of her adopted daughters, Soon-Yi Previn, roughly 35 years younger than Allen. Previn and Allen married in 1997, and are still together today.)
"Even though the Farrow family is cynically using the opportunity afforded by the Time's Up movement to repeat this discredited allegation, that doesn't make it any more true today than it was in the past," Allen said.
At one point in the CBS This Morning interview that aired Thursday, Farrow broke down into tears watching old footage of Allen denying the allegations. "He's lying, and he's been lying for so long," she told King. "And it is difficult for me to see him and to hear his voice. I'm sorry."
The Connecticut state prosecutor working on the case at the time said there was enough evidence to charge Allen, but reportedly thought a trial would be too hard on Farrow as a child. Farrow said, looking back, she wishes she had taken the stand.
"You know, honestly yes," she said. "I do wish that they had, you know, even if I'm just speaking in retrospect. I was already traumatized. … Here's the thing. I mean, outside of a court of law, we do know what happened in the attic on that day. I just told you."
As for why she was coming forward again with the allegations, this time in an even more public setting, Farrow said the #MeToo movement and the Time's Up initiative have encouraged her.
"With so much silence being broken by so many brave people, against so many high-profile people, I felt it was important to add my story to theirs ... It was very momentous for me to see this conversation finally carried into a public setting," Farrow said.
In recent weeks, several Hollywood stars, including Greta Gerwig and Mira Sorvino, have openly condemned Allen and expressed support for Farrow. Actor Timotheé Chalamet said he was donating to charity his salary from an upcoming Allen film he made. But Allen still has his supporters — actor Alec Baldwin tweeted that the "renunciation" of Allen and his work was "unfair and sad."
Farrow also told King that recent statements from actors who have publicly expressed support for her have moved her — and added that she hoped actors who continue to work with Allen despite Farrow's allegations will reconsider their actions.
"I'm not angry with them," Farrow said. "I hope that ... they can acknowledge their complicity and maybe hold themselves accountable to how they have perpetuated this culture of – of silence in their industry.
"Because I have been saying this – I have been repeating my accusations unaltered for over 20 years and I have been systematically shut down, ignored or discredited. If they can't acknowledge the accusations of one survivor's how are they going to stand for all of us?"