Is that all-black red carpet movement dead? Sunday's SAG Awards will be the test.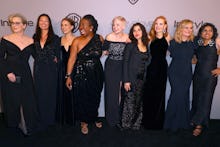 The 2018 Golden Globes are synonymous with the red carpet movement that had almost every single attendee cloaked in all black or wearing a pin in support of Time's Up, the initiative formed by 300 members of Hollywood that focuses on fighting workplace harassment beyond Hollywood and across the socioeconomic spectrum.
It seemed like a powerful (and essentially effortless) enough statement that could have easily lasted throughout this entire awards season, and certainly through the Oscars in March.
But at the Critics' Choice Awards, which came less than a week after the Globes, all black was not the move. While some actresses did stay loyal to wearing all black, like Reese Witherspoon, Laura Dern and Elisabeth Moss, an overwhelming majority of women and men in attendance were back to dressing in full, blown-out color, sans Time's Up pins.
So are red carpets shifting back to color? Sunday's Screen Actors Guild Awards, considered one of the biggest award shows of the season, will surely be the test.
If all-black outfits resurge at the SAGs, then clearly people in Hollywood want to remain visibly connected to this movement, and let their fans know that the fight isn't over yet.
And if they don't, that will be seen as its own statement. After all, the initial idea itself was called into question for its effortlessness. By allowing people to simply show up in black or wear a pin and be presumed part of the fight against workplace harassment, men who have been accused of sexual misconduct were able to join right in, undetected.
Take James Franco, who's been accused of sexual misconduct by five women per a report from the Los Angeles Times. He arrived at the Globes wearing a Time's Up pin, showing that he was in support of this movement to finally let harassment in Hollywood have some kind of consequence. Days later, he was one of the men faces consequences because of his behavior.
"I truly believe, and why I was wearing the pin, is that they [women and others] need to be part of this conversation," Franco told Seth Meyers about wearing the pin, hours after the allegations came out.
Although a red carpet flooded with black outfits might have been a dramatic and necessary statement to get the Time's Up word out there, the movement does not need actresses and actors running around in all-black to survive. What they need is accountability, open and honest conversations and funds.
Plenty of actresses and actors already understand this. On Wednesday, Condé Nast announced that it was partnering up with eBay and Time's Up to auction off some of the gowns and tuxes from the Globes, with all funds raised going to the Time's Up Legal Defense Fund, which connects people who have encountered workplace sexual harassment with proper legal representation and assistance. That is an initiative that will make a difference.
So will black yet again flood a major Hollywood red carpet, while more accusations against some of Hollywood's most powerful players continue to swirl? Either way, Time's Up isn't going anywhere anytime soon.