The best US airline frequent flyer program — plus even smarter ways to save money on cheap flights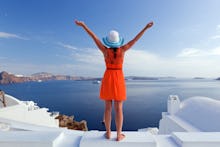 Whether you're looking to get moved up to an earlier flight or access to a more luxurious lounge while you await takeoff, airline loyalty programs certainly have their perks. Extras like free in-flight Wi-Fi and priority boarding can also help ease the pain of air travel. The only conflict, from a consumer standpoint, is if the desire to accrue more points discourages you from seeking out the best prices or more convenient routes from competitors.
Looking to go all-in on a single airline? You'll probably want to stick with Delta. For the third year in a row, the airline's loyalty program was named the best in the nation by personal finance site WalletHub. Southwest Airlines was the runner-up, while the discount carrier Spirit Airlines ranked last.
To arrive at its findings, WalletHub compared the 10 largest airlines using dozens of data points, including the number of flights offered each day, whether or not the airline used blackout dates for tickets purchased with miles and how easy it is to transfer your miles to partner carriers.
WalletHub also compared three different flyer profiles: A light flyer spending less than $500 a year on air travel, an average flyer who spent about $4,000, and a frequent flyer who spends nearly $8,000 annually.
Interestingly enough, in terms of dollar value, Delta's points fall on the lower end of the spectrum. Hawaiian Airlines and Alaska Airlines both offer nearly $20 in rewards for every $100 you spend. Delta offers between $9 and $13, depending on your frequency of travel.
The reason for the discrepancy? Delta is one of only two major airlines whose miles do not expire, and the airline has more partner carriers than Hawaiian and Alaskan Airlines do combined.
If pure flexibility is your concern, you might have more luck going with a carrier like United — which works with 38 different carriers under its frequent flyer program, though some other elements of its customer service have come under fire. In other words, there are always going to be trade-offs.
Are frequent flyer programs even worth it?
Airlines obviously don't set up frequent flyer programs to be nice. They put them into place because they get consumers to spend more than they would otherwise, Michel Ballings, a business professor at the University of Tennessee, wrote for WalletHub.
That's because your desire to earn points can cloud your bottom line. "Even if airlines would offer cash back (just like major credit cards), the clearest reward available, consumers would still be disadvantaged because it would motivate them to spend more," he writes. "This is a strange psychological technique, but it works."
On the flip side, the balance of power may be tilting more toward consumers as airlines have begun sweetening the pot to make their programs stand out. Nearly half of the major airlines expanded their loyalty programs in the last year, WalletHub notes, by an average of 20%.
So how can you get the most out of your frequent flyer programs? Avoid redeeming your points for anything other than flights, says the Points Guy, since the magazine subscriptions and gift cards sent out to subscribers generally have less bang for their buck.
You should also generally avoid buying points with hard cash — even if it puts that European vacation within reach — since points purchased through a loyalty program come at a hefty 62% premium compared with when they're actually earned.
As you might expect, the people who benefit most from a loyalty program are typically those already spending a lot of money on airfare; otherwise getting simply getting cash back is going to be the best benefit. One NerdWallet study found the typical travel rewards card can take up $8,000 in domestic air travel in order to truly pay off.
If you do decide to go with an airline loyalty program, also be sure that you're not being lulled into a sense of complacency: It's always important to check lots of different airlines for different pricing and route options, particularly if you've got a flexible travel window.
Smarter ways to save on flights
If your goal is to spend the least amount possible to get from point A to point B, there are better ways than relying on your favorite airline's loyalty program.
Before you book your flight, compare prices on an independent site like Kayak, Matrix ITA or the app Hopper. Playing around with different dates and times can help you save even more. For example, a midweek roundtrip flight from Chicago to Los Angeles can cost about $140 on Spirit Air versus nearly $200 for a Saturday afternoon flight on United.
Also, whenever you pay, use a credit card that earns rewards for you as well, so you are less dependent on one carrier. Bank of America's Premium Rewards card, for example, gives you a $100 travel credit to offset its $95 annual fee, then lets you earn points you can redeem for flights on multiple airlines.
Lastly, keep an eye out for flash sales from carriers like JetBlue, Southwest and Wow. Since these deals go fast, you need to be ready to buy right away. But play your cards right, and you could save big on your next vacation.
Sign up for the Payoff — your weekly crash course on how to live your best financial life.