Offset is offended that people are offended by his controversial "queers" lyric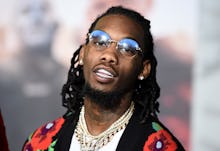 Rapper Offset, a member of the Grammy-nominated Atlanta hip-hop trio Migos, is coming under fire after rapping homophobic lyrics on "Boss Life," a song by rapper YFN Lucci.
The line in question, "I cannot vibe with queers" set off a wave of outrage Wednesday night, enough so that Offset shared a pseudo-apology on Instagram Thursday — but that statement has drawn its own share of critique as well.
Offset's message featured the dictionary definition of the word "queer," as well as a caption explaining that he "didn't write the line about gay people."
"When I wrote that, I was thinking of words that could rhyme with the others (here, lear, solitaire, bear) and I saw this definition about her having a queer feeling she was being watched and it fit what I was thinking about a stalker creepy paparazzi situation," Offset wrote. "I'm offended I offended anybody."
The screenshot of the definition and his explanation received more than 198,000 likes by Thursday afternoon. (There are no comments on the post, since Offset disabled them.) But others aren't buying the explanation and believe he should have refrained from using the term in a negative context — especially since there is a history of the word being used by heterosexual people to degrade gay people.
The song at the center of this back and forth was first rolled out in December, but the criticism really started pouring in just recently, after the song's music video hit the internet on Tuesday. Many speaking out, including British singer and songwriter MNEK, called Offset's words hypocritical, as Migos is known for glorifying and wearing designer labels, much of them founded by gay men.
As pointed out by MNEK, one of the group's early commercial hits, "Versace," celebrates the prestige they enjoy by wearing high fashion; it seems clear, though, that the group's members are not concerned with the humanity of the people behind that label.
And this is not the first time the group, which also includes members Quavo and Takeoff, has been called out for making homophobic remarks. In early 2017, the members of Migos were in hot water for their response to singer-rapper ILoveMakonnen — best known for his weeknight club anthem, "Tuesday" — coming out as a gay. In a February Rolling Stone interview, Migos said:
"They supported him?" Quavo asks, raising an eyebrow. "That's because the world is fucked up," says Offset. "This world is not right," Takeoff says. "We ain't saying it's nothing wrong with the gays," says Quavo. But he suggests that Makonnen's sexuality undermines his credibility, given the fact that "he first came out talking about trapping and selling Molly, doing all that."
After the Rolling Stone article hit the web, Migos apologized on Twitter, stating, "We love all people, gay or straight and we apologize if we offended anyone."
In May, Migos was caught in controversy once again, after rumors spread that the group refused to perform alongside drag queens during Katy Perry's Saturday Night Live appearance. (Migos appear on Perry's Witness single, "Bon Appetit.") But those accounts were disputed, and the post that originated the rumors on World of Wonder — a site for the production company behind RuPaul's Drag Race — was taken down, Spin reported. Furthermore, one drag queen who was at the performance said "there was no drama" with Migos and another queen said they could not confirm the rumors, according to the report. Migos' rep told the Atlanta Journal-Constitution that the claims were false.
Despite those remarks published in Rolling Stone and the confusion surrounding that SNL performance, Migos continued to have a monumental year in 2017, becoming a breakthrough act after gaining momentum (and a seal of approval from actor and performer Donald Glover) with their chart-topping banger "Bad and Boujee."
Now, nearly a year later, Migos is once again in the middle of a conversation about homophobia in hip-hop. And it comes at a questionable time, since the group is about to drop a new album (Culture II, out Jan. 26) and is currently up for two Grammy awards: best rap album for Culture and best rap performance for "Bad and Boujee." It remains to be seen if this latest controversy will have any lasting effect on Migos' career, but if history's any indicator, it likely won't.