Standoff forms in Congress as clock ticks closer towards government shutdown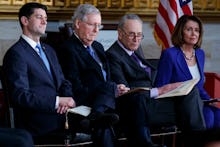 The odds of a government shutdown steadily increased on Thursday as Democrats — and even some Republicans — said they plan to vote against GOP leadership's current plan to pass a short-term funding bill and prevent a shutdown Friday night.
House Republicans plan to vote on a bill on Thursday that would fund the government through Feb. 16, delay some taxes created by the Affordable Care Act, as well as reauthorize the Children's Health Insurance Program for another six years. If they do not, current funding will expire at midnight.
But it's not clear that the House — which is controlled by Republicans — has the votes to pass the bill.
The Freedom Caucus — a group of far-right House conservatives — claimed to have enough votes to kill that bill. A handful of other moderate Republicans also plan to vote no, while House Minority Leader Nancy Pelosi has advised all House Democrats to vote against the plan.
Over in the Senate, it's not clear that Republicans — who also control that chamber — have 50 votes in support of a short-term spending bill, let alone the 60 needed to avoid a filibuster.
GOP Sens. Lindsey Graham (R-S.C.), Mike Rounds (R-S.D.) and Rand Paul (R-Ky.) have already said they plan to vote against the bill. Sen. John McCain (R-Ariz.), currently undergoing cancer treatment, is still home in Arizona, and it's unclear whether he'd return to Washington in time to vote for the bill.
Given that a number of Democrats have signaled they plan to vote no, the possibility that the current funding bill would pass the Senate looks slim.
Adding to the Republican-controlled Congress' woes is President Donald Trump, whose unpredictable tweeting has already thrown wrenches into the dealmaking process. Earlier on Thursday, Trump sent a tweet criticizing the addition of CHIP to a short-term government funding bill.
"CHIP should be part of a long term solution, not a 30 Day, or short term, extension!" Trump tweeted.
White House press secretary Sarah Huckabee Sanders had to clarify the president's tweet, issuing a statement that said Trump does, in fact, support the short-term funding deal.
"The president supports the continuing resolution introduced in the House," Sanders said in the statement. "Congress needs to do its job and provide full funding of our troops and military with a two year budget caps deal. However, as the deal is negotiated, the president wants to ensure our military and national security are funded. He will not let it be held hostage by Democrats."
Given that the government has been on the brink of shutting down multiple times during Trump's first year in office, it's possible that Congress can come to a deal before the deadline. However, a government shutdown is not out of the question.
The last time the government shut down was in 2013.