11 looks that prove men's fashion doesn't have to be as dull as actors make it look on red carpets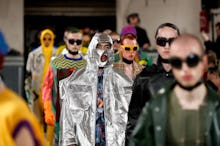 The men have it so easy. Men can show up to a red carpet in a black suit or tuxedo and people think, simply and serenely: "Nice." Or, they can show up in a suit with a subtle little twist and blow people's minds.
When it comes to men wearing what are considered to be "daring outfits" on red carpets, it's pretty much just them still wearing suits but just in an unexpected color or texture, like Donald Glover showing up to the Golden Globes in brown velvet, or Rami Malek showing up to the Met Gala in bright red. Those looks were fabulous, yes, but we want more.
We want different silhouettes and sparkle and style and flair. We want to look at a man's outfit at a red carpet event, and think: Fashion will never be the same again. We want innovation.
When we look at recent men's fashion shows — particularly shows that are going on at men's fashion week in Paris right now — we can't help but be filled with hope.
These particular looks, right here, are far from dull. Maybe the farthest from dull. Dull? We don't know her.
Imagine Joaquin Phoenix wearing — and pulling off — these dog heads from the Julien David show
Imagine how wonderful it would be to see, like, Justin Bieber in this Walter Van Beirendonck pink rubber number
Pharrell could definitely pull off this colored veil from the Walter van Beirendonck show too
OK but think about it: Armie Hammer in this velvet jumpsuit by Palomo Spain
And think about this: Ryan Gosling in metallic satin by Palomo Spain
And what about a dress and bomber combo from Facetasm, which we think would look divine on Riz Ahmed?
Think about how great Rami Malek could look in these metallic pants from GMBH.
Close your eyes for a sec and imagine Timothée Chalamet in this plastic aviator's cap from the Margiela show.
It would be major.
Close your eyes again and think about Donald Glover in this psychedelic shirt from Dries Van Noten.
Now about this fur dress at Namacheko... Zayn could do it.
And for our finale: thigh-high Uggs, as seen at the Y/Project show, which we would thoroughly enjoy Jaden Smith wearing
Stylists, please help us.