While you weren't looking: 5 stories from Trump's Cabinet that aren't about shutdowns or porn stars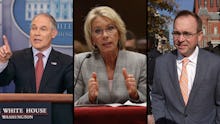 This week's news has been so consumed by the prospects of a potential government shutdown that the media barely had time to focus on the reports that the president of the United States allegedly paid a porn star hush money to cover up an affair.
Given all that, it's reasonable to assume many people haven't had time to catch up on the serious policy decisions that members of the Trump Cabinet have been making both behind closed doors and in public.
Here are five important stories from the Trump administration you might have missed this week.
Mulvaney requests $0 for CFPB budget
Acting Director of the Consumer Financial Protection Bureau Mick Mulvaney has submitted a proposal to fund the agency he runs for the second fiscal quarter of 2018. His funding request amounts to exactly zero dollars and zero cents.
"I have been assured that the funds currently in the Bureau Fund are sufficient for the Bureau to carry out its statutory mandates for the next fiscal quarter while striving to be efficient, effective and accountable," Mulvaney wrote in his request to Federal Reserve Chair Janet Yellen.
Mulvaney's proposed shoestring budget dovetails with his new agenda for the agency, which includes rolling back restrictions on predatory pay day lenders who often drive low-income borrowers into penury with high interest loans.
The CFPB gets its funding through the Federal Reserve specifically so that it can be protected from attacks on its budget from hostile members of Congress. But who needs a hostile Congress when you've got a man on the inside.
HHS grants new protections to health care providers who oppose treatment for transgender people and abortion
The Department of Health and Human Services is rolling out a new plan through its civil rights division to offer special protections to health care workers who object to providing care to transgender patients or abortion care.
The department would not only be able to shield health care workers who choose not to provide care, but could punish organizations that don't allow their workers to object to providing care.
Despite reporting that suggests the move will protect health care providers from having to perform gender transition surgeries, the actual result of the change could be more drastic. The Washington Post reported legal experts fear this raises the possibility for doctors to refuse care in various scenarios.
Education Department dismisses complaints for transgender students
If you thought Department of Health and Human Services was the only agency fighting against transgender people's rights, think again.
This week the Huffington Post reported that the Department of Education dismissed at least three discrimination cases brought to them by transgender students.
One complaint came from a teenager in Texas whose high school would not allow him to use the bathroom that corresponds with his gender identity or room with his male classmates on off-campus school trips.
In June the Washington Post reported on two other cases closed by the Education Department's Office of Civil Rights bringing the total number of transgender cases shut down by the department to at least five.
Trump delays reproductive health service funding
In addition to the multiple assaults on transgender rights coming out of the administration, reproductive rights are also under attack on multiple fronts.
The Trump administration is now months behind on offering organizations that provide birth control and reproductive health care to low-income people information on how to apply for Title X grants to fund their operations.
The delay has left reproductive justice advocates worried that the administration is ready to ignore them in perpetuity. They have started forming contingency plans for what happens when they run out of existing funds.
Some existing grants will run out as early as March 31, giving organizations just two months to prepare.
EPA makes it easier for new dangerous chemicals to get approved
The Environmental Protection Agency is changing the way it evaluates new chemicals for environmental and health hazards, reducing the burden on chemical companies to make their products safer.
Chemicals used in everything from cleaning products to consumer goods like children's toys are expected to face fewer barriers to being approved for market, causing concern among safety activists and environmentalists alike.
The administration plans to stop making companies sign legal agreements known as "consent orders" for products that have risks associated with "reasonably foreseen" uses of their products that are not associated with the products' intended use.
That means if a product has potentially dangerous effects to a person's health or to the environment, but those effects only happen when people use the products in ways they weren't designed for, companies will face fewer legal liabilities.
That development would likely be unwelcome in normal times, let alone in an era when people are literally eating detergent pods for fun.
Correction: Jan. 19, 2018