From pussy bows and hurricane heels to Ms. Frizzle, this was the year in Trump fashion controversies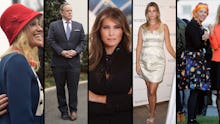 This Saturday is the one-year anniversary of the Trumps moving into the White House — and we're exhausted. As style reporters, you maybe wouldn't think that we'd have to be constantly plugged into this family's doings, but joke's on you (and us), because this is a first family that loves — and maybe even lives — to create fashion brouhahas.
We kind of already got prepared as designers spoke out against dressing the family before they were even the first family, but hoo boy, we were not prepared for the onslaught of fashion stories that this family would bring us this year.
From the first lady to staffers, this is an administration that has a knack for creating fashion controversies of their own.
This is the year in Trumpian fashion controversies:
January: On Inauguration Day, Trump's tie is still too damn long
Before he was sworn in, Mic had been on the case of Trump having extremely long ties that extend far below his belt. But we did think that, on Inauguration Day, maybe he'd, you know, change and dress a little sharper.
Hah. We were so young.
On Inauguration Day, his tie was still ginormous.
January: Kellyanne Conway desperately wants you to notice her
Le sigh. On Inauguration Day, Kellyanne Conway, who is a counselor to the president, arrived in a $3,600 Gucci coat that made her look like if Paddington Bear fought in the Revolutionary War.
People were confused.
We couldn't deal then and we still can't deal now.
February: Nordstrom drops Ivanka Trump's clothing line
Since Trump was elected, Shannon Coulter's initiative, coined "Grab Your Wallet," has pushed for retailers to end relationships with any and all Trump brands, and for consumers to stop shopping at those retailers until they do.
The first sign that this movement was maybe working came in February, when Nordstrom ended its relationship with Ivanka Trump's brand.
"In this case, based on the brand's performance, we've decided not to buy it for this season," the company told Bloomberg.
February: Trump slams Nordstrom
Days later, Trump took to Twitter (as he is wont to do) and fired off a tweet against Nordstrom because apparently he didn't have bigger things to worry about.
"My daughter Ivanka has been treated so unfairly by Nordstrom," he wrote. "She is a great person — always pushing me to do the right thing! Terrible!"
February: Stores continue to drop Ivanka Trump's brand
Despite Trump's whining, many different stores followed Nordstrom's lead, including Neiman Marcus, Belk and Gilt, among many others.
Why? Well, sales for sure. But also consider this: Her clothes are very ugly.
March: Sean Spicer's shoegate
Does this not feel like it was 10 years ago?
In March, when we all were so much younger, then-White House press secretary Sean Spicer caused controversy when he appeared to be wearing two different shoes.
However, because we are journalists, we took a closer look and found that no, those are not two different shoes. Spicer was wearing a foot brace.
Case closed.
April: Melania's official White House portrait
Who knew an overall blur on a photo could cause a real controversy? After this year, truly nothing surprises us.
In April, Melania Trump's official White House portrait debuted and almost immediately, people found fault. Why did it look like it had a filter all over it? Why were the lines around her face so blurry? And that ring? Far too big.
Compared to previous portraits of Michelle Obama and Laura Bush, there did indeed appear to be some kind of editing on this particular portrait. But we'd say that's the fault of the photo editor themselves, and not so much Melania.
May: The pussy bow returns
In May, the pussy bow — which first caused a stir in October 2016 when Melania Trump wore one to a debate immediately after a recording of her husband saying "Grab them by the pussy" leaked — made a comeback.
This time, it was a little more subtle, with the pussy bow blouse in black, but still, what an unfortunate coincidence.
August: Those hurricane heels
Count this as Melania Trump's biggest fashion controversy to date. In August, Melania Trump and her husband stepped out of the White House, on their way to Texas to survey damage done by Hurricane Harvey for the first time. Melania Trump wore an outfit that was quintessentially her: all black except for an army green bomber jacket, with sky-high stilettos on her feet.
But according to many on the internet, to step out in that kind of outfit — with those striking heels — was inappropriate. It gave people the sense that she had no intention of getting her hands dirty, but instead would be kind of teetering around.
Though she did end up changing on the plane, curiously she repeatedly stepped out in heels on her way to hurricane ravaged areas after this too.
October: Anna Wintour isn't going to invite Donald Trump to the Met Gala ever again
In October, Anna Wintour, the editor-in-chief at Vogue, announced that of all the people on Earth she doesn't want to invite again to the Met Gala, Donald Trump is enemy number one.
In a very sweet little interview with James Corden, which ended up with Wintour taking a bite of bacon-wrapped pizza, he asked her: "Anna, you famously host the celebrated Met Gala that takes place in Manhattan each year. Celebrities from all walks of life are desperate to get a ticket. Everyone from Beyoncé to George Clooney attends. So my question is: Who would you never invite back to the Met Gala?"
Without a whole lot of introspection, Wintour fired off: "Donald Trump."
October: DeVos as Ms. Frizzle? We think the fuck not.
To anyone who grew up with the TV show The Magic Schoolbus, Ms. Frizzle is known for being the free-spirited, magical, possibly queer fourth-grade teacher who loved her students and loved putting them in possibly deadly situations (all in the name of a good education) even more. Any way you think about it, she ruled.
So when Betsy DeVos, the U.S. secretary of education who within months of taking on the position rescinded documents that outline rights for students with disabilities, dressed up as Ms. Frizzle for Halloween, people were, well, pissed.
How dare she, honestly?
December: Outdoor brands go to war with Trump
After Trump announced that he would be dramatically shrinking the size of two national monuments in Utah — Bears Ears and Grand Staircase-Escalante — outdoor brands R.E.I., Patagonia and the North Face fought back.
With statements on their websites and fundraisers to help the land, Trump continued his reputation for forcing fashion to get political.