Americans would largely fault Republicans for government shut down, poll finds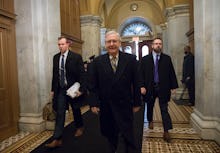 President Donald Trump and the Republican Party would shoulder the blame if the government shuts down, according to a new poll from ABC News and the Washington Post released Friday.
Nearly half of Americans, or 48%, would fault Republicans and Trump for the shutdown, while 28% would blame Democrats, according to the survey. Another 18% said both parties are equally culpable for a shutdown.
The poll's findings could have an impact on whether or not the government will shut down Friday.
The House has already passed a short-term spending bill that funds the government through Feb. 16, eliminates some taxes created by the Affordable Care Act, and re-authorizes the Children's Health Insurance Program for six years.
House Republicans — who control the chamber — have dug in their heels and said this is the bill the House will pass, and have dared the Senate to vote it down.
"We've done our job," House Majority Leader Kevin McCarthy (R-Calif.) told Politico's John Bresnahan. "It's up to Sen. [Chuck] Schumer [D-N.Y.] to decide if he wants a shutdown."
House and Senate Republicans say that if the bill fails in the Senate, it will be the fault of Democrats, whom they say are asking too much by wanting an immigration fix added to the funding bill.
Democrats, however, say there is a bipartisan immigration deal ready to go that would give protections to DACA recipients — or undocumented immigrants who were brought to the U.S. as minors — while also giving Trump and the GOP some of their priorities, such as some border wall funding and immigration reforms.
And Democrats are holding the line by saying they'll refuse to vote for another short-term funding bill that would put Congress in the same place in another month.
Democrats add that if the government shuts down, the blame will fall on Republicans — who have unified control of Washington.
The ABC News/Washington Post poll shows that Democrats' argument is the one resonating with voters.