Dublin hotel bans social media influencers: "The sense of entitlement is just too strong"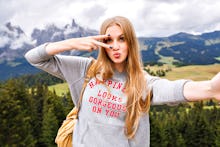 Things just got very #Awkward between one small lodge in Dublin and one lifestyle YouTuber.
After a woman named Elle Darby, an influencer based in the United Kingdom, reached out to the White Moose Café to request free accommodations in exchange for exposure on her YouTube videos and Instagram stories, the hotel imposed a ban on all social media influencers.
On Tuesday, the White Moose Cafe's Paul Stenson posted a screenshot of Darby's request on the White Moose Café Facebook page, with her name and email redacted, and included an open letter. "It takes a lot of balls to send an email like that, if not much self-respect and dignity," Stenson wrote, rhetorically asking who would pay the staff — including the housekeepers, waiters and receptionists — who would make Darby's visit comfortable.
To show "more self-respect," Stenson wrote, "I'd advise you to offer to pay your way like everyone else, and if the hotel in question believes your coverage will help them, maybe they'll give you a complimentary upgrade to a suite." Stenson then linked to a social media influencer parody video that the hotel had posted in October 2017.
Though the White Moose Café never posted Darby's name, she decided to publish a 17-minute video of her own, titled "i was exposed (SO embarrassing)" and posted it on Tuesday. In the video, she details how she helps promote brands and why she reaches out to hotels and doesn't feel like she did anything wrong. Darby called the hotel's public letter "just malicious" and noted that she'd received many comments calling her a "disgusting freeloader." As of Friday, the comments for the video have been disabled.
The online back-and-forth has made both parties lightning rods for existing tensions between influencers and people who don't believe in their value. Backlash from many influencers led Stenson to impose a public ban on bloggers, which he explained in a Facebook post on Wednesday.
Stenson shared insights on the controversy in a Snapchat story, the Independent reported. On the White Moose Snapchat, he said the incident "puts into question the authenticity of influencer marketing" because Darby would have probably reviewed the hotel positively just because it was free.
In an ironic twist, Stenson's anti-influencer stance has earned him tons of social media attention — arguably more than he would have gotten with simple shoutouts on Darby's social feeds. All the fuss appeared to crash the White Moose Café's website on Friday afternoon, and many people have flocked to the hotel's Facebook and Twitter to show either support or outrage. White Moose Café took the liberty of sarcastically reposting several reviews that disagreed with Stenson's stance, including this one:
Others were laughing at the controversy.
As for the White Moose Café, the staff seem unperturbed by all the attention. According to a Facebook post, Stenson is in Amsterdam on vacation. "Please don't try to call me as there's a fair chance I'll be stoned," he wrote to reporters trying to reach him for comment.
Mic has reached out to Paul Stenson and Elle Darby and will update with any comments.