US Olympian Aly Raisman to Larry Nassar: "You should have been locked up a long, long time ago"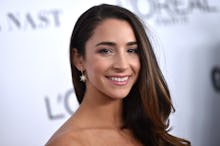 Aly Raisman, a three-time Olympic gold medalist for the U.S. gymnastics team, gave a powerful, passionate speech on Friday in front of Ingham County Circuit Judge Rosemarie Aquilina and Larry Nassar, the team's former doctor who has pleaded guilty to 10 counts of first-degree criminal sexual conduct.
Raisman originally said on Twitter that she would not be speaking at Nassar's trial, but in her speech, the 23-year-old athlete said, "It wasn't until I started watching the impact statements from the other brave survivors that I realized I, too, needed to be here."
In total, prosecutors expect more than 120 women — including fellow Olympian Jordyn Wieber, who also spoke Friday — to recite "victim impact statements" as a part of a multi-day sentencing period. At its end, Nassar will face a minimum sentence of 25 years in prison, in addition to a 60-year sentence he'll serve for child pornography crimes.
"Larry, you do realize now that we — this group of women you so heartlessly abused over such a long period of time — are now a force, and you are nothing," Raisman told Nassar. "The tables have turned, Larry. We are here. We have our voices and we are not going anywhere."
Throughout her speech, Raisman addressed Nassar directly, explaining the effect his abuse had and detailing her hopes for how his time with U.S.A. Gymnastics will be remembered.
"I will not rest until every last trace of your influence on this sport has been destroyed like the cancer it is," she said.
Raisman not only unloaded her anger on Nassar himself, but also on the systems in place within U.S.A. Gymnastics that allowed Nassar's alleged pattern of abuse to flourish for so long.
"If, over these many years, just one adult listened and had the courage and character to act, this tragedy could have been avoided," Raisman said. "I and so many others would have never ever met you. Larry, you should have been locked up a long, long time ago. "
Raisman eventually addressed Kerry J. Perry, the new CEO of U.S.A. Gymnastics, responding to a statement she released about the "courageous" women, like Raisman, who had come forward.
"This sounds great, Miss Perry, but at this point, talk is cheap," Raisman said. "You left [the courtroom] midway through the day and no one has heard from you or the board. ... A word of advice: Continuing to issue statements of empty promises thinking that will pacify us will no longer work."
Raisman ended her speech by explaining the effect she hopes Nassar's trial will have on the ongoing #MeToo movement more generally, which hopes to bring awareness to and ultimately end sexual misconduct.
"My dream is that one day everyone will know what the words 'me too' signify," she said, "But they'll be educated and able to protect themselves from predators like Larry, so they'll never, ever, ever have to say the words 'me too.'"
Jan. 19, 2018, 5:20 p.m.: This story has been updated.