Trump points finger at Democrats as government shuts down on anniversary of inauguration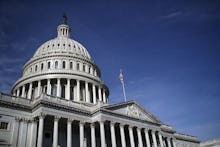 President Donald Trump is blaming Democrats for the government shutdown that began at midnight Friday, tweeting Saturday that they're "holding our Military hostage over their desire to have unchecked illegal immigration."
"They could have easily made a deal but decided to play Shutdown politics instead," Trump said Saturday, on the one year anniversary of his inauguration.
The partial shutdown — the first to occur with one party controlling both chambers of congress and the White House — began when senators failed to reach an agreement on a stopgap spending bill to keep the government open.
The House had passed a temporary funding bill Thursday.
Democrats wanted a bill to include a solution for the Deferred Action for Childhood Arrivals program, which Trump announced in September he was ending, while Trump and the Republicans demanded significant concessions on border security, including a wall between the United States and Mexico.
Senate Minority Leader Chuck Schumer said Friday that he begrudgingly included funding for the wall in a deal he struck with Trump to avoid the shutdown, but that the president backed out of it later in the day.
"Republican leadership can't get to yes because President Trump refuses to," Schumer said.
Trump ends first year in office with shutdown
It is perhaps fitting that the government would shut down on Saturday, as it also marked the end of Trump's first year in office — a fact that was not lost on the president Saturday morning.
"The Democrats wanted to give me a nice present," he tweeted.
The shutdown capped a chaotic year for Trump, and kept him from traveling to Mar-a-Lago Friday for a party celebrating the anniversary of his inauguration.
The president, sour about the possibility of missing his Palm Beach blow-out, complained in recent days about what a "shame" it would be for a shutdown to sully his anniversary, according to a Daily Beast report Friday.
On Saturday, hours after the shutdown, he began pointing his finger at Schumer and the Democrats, and said that the stand-off demonstrated the necessity for more Republicans to win office in the upcoming midterm elections.
"We can then be even tougher on Crime (and Border), and even better to our Military & Veterans!" he tweeted.
But Democrats said it was the president's unwillingness to accept a bipartisan proposal on DACA that triggered the shutdown.
For now, then, "non-essential" government workers will be furloughed, military personnel may go without pay and national parks will likely close until a deal is reached.
Additionally, the Children's Health Insurance Program — which covers more than 9 million kids and expired in September — will remain in limbo.
Republicans, who hitched CHIP to their short term spending bill, blame Democrats for the unclear fate of the program.
But Democrats say that Republicans ignored CHIP while they worked on tax reform, and could authorize funding for it at any time.
Congress is hoping to end the shutdown quickly.
Republicans and Democrats were due back at work Saturday to continue negotiations, looking to strike a deal before the weekend's over.
"This shutdown was avoidable," Sen. Kamala Harris (D-Calif.) tweeted early Saturday. "We must pass a bipartisan solution to fund the government, guarantee health care for millions of kids & protect Dreamers. Americans expect & deserve it."