This week in Trump-Russia news: Shutdown won't stop Mueller probe as "witch hunt" cries intensify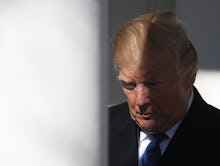 The government shutdown won't stop the FBI's Russia probe, but Republicans say that a mysterious memo will.
The document, which supposedly details abuses of power at the Department of Justice and the FBI, was all the rage among President Donald Trump's allies this week.
House Republicans, including way-right Iowa Rep. Steve King, claimed that it revealed transgressions "worse than Watergate." Donald Trump Jr., the president's eldest son, said it pointed to a "deep state" plot against his father. And Sean Hannity, Trump's cable news mouthpiece, said on his Fox News program Thursday that it illuminated "the biggest national scandal by far in our lifetime" — and that Robert Mueller's team should be "disbanded immediately."
"Your witch hunt is now over," Hannity said in comments directed at the special counsel Thursday. "Time to close the doors."
So what's the deal with this supposed bombshell memo?
Here's what you need to know about the latest anti-Mueller talking point — and everything else that went down in the Trump-Russia saga this week.
Republicans attack Mueller "witch hunt" with memo
It's not clear what exactly is in the document, because it hasn't been made public — as Republicans demanded in their #ReleaseTheMemo hashtag this week.
But it reportedly originated from Rep. Devin Nunes (R-Calif.), the chair of the House Intelligence Committee who has been accused of attempting to undermine the Trump-Russia probes.
Republicans say the memo, which has been made available to members of the House, illustrates a number of wrongdoings by the FBI and DOJ — especially what they characterize as an abuse of the Foreign Intelligence Surveillance Act.
Republicans, who have ramped up their attacks on the investigation since it brought down former national security adviser Michael Flynn in December, have made FISA central to their attempts to undermine the investigation.
They say the FBI used information from the controversial Steele dossier to obtain a FISA warrant to investigate Trump.
The New York Times, though, reported in late 2017 that the FBI actually started investigating the campaign after aide George Papadopoulos drunkenly told an Australian official about dirt Moscow had on Hillary Clinton — Trump's Democratic opponent.
Papadopoulos pleaded guilty to lying to FBI agents about his Russia contacts in October.
Trump's allies have strongly advocated for Nunes' memo to be released to the public, suggesting it confirms their criticisms of the FBI probe, which they've characterized as a politically motivated witch hunt.
But Democrats have dismissed the memo as just another attempt by Republicans to undermine Mueller's investigation.
"Rife with factual inaccuracies and referencing highly classified materials that most of Republican Intelligence Committee members were forced to acknowledge they had never read, this is meant only to give Republican House members a distorted view of the FBI," Rep. Adam Schiff (D-Calif.), the top Democrat on the Intelligence Committee, said in a statement this week. "This may help carry White House water, but it is a deep disservice to our law enforcement professionals."
Schiff wants answers on money laundering
While Republicans are using the dossier to try to discredit the FBI investigation, Schiff this week said that testimony by Fusion GPS founder Glenn Simpson has raised significant questions about potential money laundering the Trump Organization may have engaged in with Russians.
"Simpson raises numerous questions on money laundering the Committee must investigate," Schiff said Thursday.
Simpson, who heads the firm behind the controversial dossier, suggested during a November appearance before Schiff's panel that his team had "concerns" about real estate deals between the Trump Organization and Russian nationals.
The House Intelligence Committee, one of the three Capitol Hill Russia probes, released that testimony this week.
Rep. Jackie Speier (D-Calif.), who sits on the committee with Schiff, backed her colleagues allegations, telling CNN Thursday that there is "plenty of evidence to suggest that there has been money laundering going on in many of the real estate deals that were done by the Trump Organization."
Trump Jr. repeats dad's "witch hunt" complaint
A lawyer for the Trump Organization, Alan Garten, denied accusations of money laundering — for which Simpson did not appear to provide evidence in his testimony — in a statement to Reuters on Thursday.
"These accusations are completely reckless and unsubstantiated for a multitude of reasons," Garten said.
Meanwhile, Trump and those close to him continued this week to bash the Russia investigations.
Trump Jr. — who has, himself, faced scrutiny in the investigations — doubled down on his father's oft-repeated characterization of the investigations, declaring Friday that the probe into his father is "a witch hunt, probably the greatest since the Salem witch trials."
The elder Trump also took another stab at the probes on Twitter this week, continuing to assert — incorrectly — that the investigation has already cleared him of wrongdoing and that, by the way, Democrats were actually the ones to collude with Russia.
"The Russian Collusion Hoax is dead, except as it pertains to the Dems," he tweeted Tuesday. "Public gets it!"
Americans want Trump to cooperate with probes
The majority of the public doesn't appear to agree with Trump that the Russia probe is "dead," according to a new poll this week.
In a CBS News poll released Thursday, 73% of respondents said they believe the Russia investigation should be allowed to continue.
A majority also indicated that they believe top Trump officials may have had "improper dealings with Russia."
Further, 84% of respondents said Trump should cooperate with the Mueller probe and should participate in an interview with the special counsel if he's asked.
Trump once said he would be open to meeting with Mueller, but seemed to change his tune when he was asked by reporters last week if he'd still be willing to testify.
"Certainly I'll see what happens," he said.
Mueller subpoenas Bannon
Mueller last week issued a subpoena to Steve Bannon, Trump's former chief strategist, it was reported on Tuesday.
Bannon, who helped lead Trump to his unlikely victory in 2016 and played a major role in his transition to the White House, met behind closed doors with the House Intelligence Committee on Tuesday — but apparently didn't provide many answers to his interviewers, possibly at the president's bidding.
But he is said to be willing to cooperate with Mueller, who will apparently allow the former Breitbart News head to talk with investigators rather than a grand jury.
Bannon was one of Trump's closest and most powerful allies — even after he was forced out of the administration last August when retired general John Kelly took over as chief of staff.
But comments attributed to him by Michael Wolff in Fire and Fury — the journalist's explosive account of Trump's chaotic rise to power — got him torched by Trump and ousted from Breitbart.
Among other things, Bannon is quoted as saying that the 2016 meeting Trump Jr., Jared Kushner and Paul Manafort took with a Russian lawyer they believed had dirt on Clinton was "treasonous."
While his House Intelligence Committee testimony Tuesday was largely fruitless, he did apparently confirm that he discussed that infamous Trump Tower meeting with other top Trump officials, including then-chief of staff Reince Priebus and then-press secretary Sean Spicer.
The committee subpoenaed Bannon to return to Capitol Hill before they'd even finished interviewing him Tuesday after declining to answer questions about the president.
It's not clear why Mueller subpoenaed Bannon, but suggests the former chief strategist is not personally a target of the special counsel's investigation.