Bernie Sanders and Rand Paul share what they think it will take to re-open the government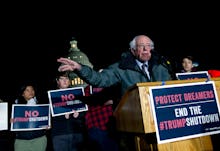 The U.S. government shutdown continued into Sunday as politicians on both sides of the aisle remain stuck in a stalemate over immigration and budget negotiations. And as politicians in Washington, D.C., attempt to move forward, two senators on either side of the aisle appeared Sunday on CNN's State of the Union to discuss what they think it would take for the impasse to come to an end.
Sen. Rand Paul (R-Ky.) was one of four Republican senators to vote against a short-term funding bill prior to the government shutdown, favoring a more long-term solution. On Sunday, the Kentucky senator proposed his own solution to bringing the government shutdown to an end: Give Democrats a vote on immigration — just not yet.
"Here's the answer to how you solve this today," Paul said on CNN. "Promise, guarantee in writing to the Democrats that there will be one week's debate on immigration and a vote on an immigration bill sometime in the next month, in the House and the Senate."
Paul noted that Democratic colleagues whom he had presented the plan to balked at it, wanting "guaranteed passage on a must-pass bill."
"Nobody gets a guaranteed passage, so I don't think they're going to get that," Paul said. "But what about a guaranteed week of open amendments? I get to present amendments, everybody does, which rarely ever happens. Do the same thing on the House side. You get two different bills, go to conference, work out our difference, and there can be an immigration bill that comes forward in the next month. I think it's very doable."
Such a plan, Paul explained, would not be as easy to accomplish in the current spending bill, as "we don't all agree on what the fix is to immigration."
"And rather than trying to work out a deal in advance, put it on the floor and let the deal work itself out as the legislation comes to a conclusion," Paul said.
"I think the impasse could end today if Republicans would promise just to have a week of immigration votes, have a conclusion, let us all put forward amendments," Paul added. "I think the American people would like to see us hash out our differences through amendments and votes."
On the other side of the aisle, Sen. Bernie Sanders (I-Vt.), who caucuses with the Democrats, also emphasized the need for negotiation and cooperation to bring the shutdown to an end in a Sunday State of the Union interview.
Discussing Sen. Majority Leader Mitch McConnell putting forth a spending bill that did not have the 60 votes it needed to pass, Sanders said, "When you're in that situation, it requires that what we should be doing is negotiating. Alright, he doesn't have the votes that he needs — let's sit down and talk."
"We can move very, very rapidly. What I want to assure the American people is that there's a lot more agreement on this stuff than people think," Sanders added, noting bipartisan support for such issues as adequate defense spending and disaster relief.
Sanders took a much more hard-line stance on immigration, however, emphasizing the need for an immediate deal on Deferred Action for Childhood Arrivals, the immigration program expiring March 5 that enables undocumented immigrants brought to the U.S. as children to remain in the country legally. In order to get those protections, though, the Vermont senator did note that he could be open to negotiating with Republicans on immigration — even on Trump's proposed border wall.
"Look, I think the wall was a great idea in the 15th century when the Chinese built the Great China Wall. I don't think it makes a whole lot of sense now," Sanders said when asked if he would fund the border wall in exchange for a path to citizenship for DACA recipients. "But I'm willing to sit down in a room and do what the American people want. And what the American people want is to provide legal status to the Dreamers and a path towards citizenship."
"Let's sit down, let's do that. But that has to be passed," Sanders added. "Let me say this: If we allow Trump to get away with what he did, and that is repeal the executive order on DACA, and if these 800,000 people, young people, are subjected to deportation, this will be one of the ugliest stains in the history of the United States."
Both senators' emphasis on the need for bipartisan negotiation stood in stark contrast to President Donald Trump, who proposed his own solution on Sunday: Invoke the "nuclear option" that would enable legislative votes to pass with a simple majority, rather than 60 votes.
"Great to see how hard Republicans are fighting for our Military and Safety at the Border," Trump tweeted Sunday. "The Dems just want illegal immigrants to pour into our nation unchecked If stalemate continues, Republicans should go to 51% (Nuclear Option) and vote on real, long term budget, no C.R.'s!"