Hype List: What to check out this week, including 'One Day at a Time,' 'The Alienist' and more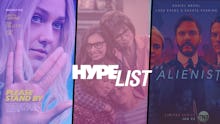 Welcome to the Hype List, a weekly recommendation series in which columnist Tirhakah Love highlights all of the pop culture happenings — movies, music, television, books and more — you need to know about.
TV: One Day at a Time
Television shows have to strike a delicate balance when addressing the social ills that are currently plaguing our nation. Creators want to entertain, but presumably they want to do it in a substantive way; if they want to be moralistic, they likely want to avoid coming off as self-righteous.
It's a dichotomy that Netflix pulled off successfully with the first season of its reboot of One Day at a Time, which introduced us to the Alvarez family — Cuban-American kinfolk composed of Penelope (Justina Machado), a military vet and single mom; Elena (Isabella Gomez), Penelope's daughter, who comes out as a lesbian in the latter half of the first season; Alex (Marcel Ruiz), Elena's younger brother; and Lydia (Rita Moreno), the kids' grandmother. They're all just trying to thrive as a family, and deal with the everyday realities of living in present-day America, but without falling prey to their various struggles or letting things get too heavy.
Showrunners Gloria Calderon Kellett and Mike Royce look to be continuing the balancing act in the show's upcoming second season. There's no shortage of spot-on topicality: Alex faces racism at school, Elena further asserts her identity and Penelope tries to manage work and motherhood, on top of going back to school and starting a new romantic relationship. But amid all of this relatable family drama, the show's throwback sitcom shtick remains intact, complete with broad performances and laughter from a studio audience. This is a show built in a classic mold, updated for our modern moment.
The second season of One Day at a Time will be released on Netflix Friday.
Music: Culture II by Migos
For the past two or so years, Atlanta rap trio Migos have pretty much dominated the sound of hip-hop with their triple-syllabic flows and trap underpinnings. And their real breakthrough came with their second studio album, 2017's Culture, thanks to hits like "Bad and Boujee," "T-Shirt" and "Slippery." Now, after months of waiting, that record's much-anticipated sequel is finally about to drop. We don't have much intel on Culture II, except that the advance singles — "Motorsport" (featuring the inimitable Nicki Minaj and Cardi B) and "Stir Fry" — slap, so we're betting that this album will be a juggernaut, just like its predecessor. The recent controversy surrounding member Offset's problematic lyrics is certainly troubling, but there's still no denying the fact that this is the first major hip-hop release of the year.
Culture II will be released Friday via Capitol Records.
TV: The Alienist
TNT is starting the year off with a fascinating bit of original programming: an ornate, period crime thriller. Set in 1896 New York City and based on the novel of the same name by Caleb Carr, The Alienist follows a gruesome series of murders — specifically, murders of children. In order to solve the case, the city's new police commissioner, Teddy Roosevelt (Brian Geraghty), hires a renowned criminal psychologist named Dr. Laszlo Kreizler (Daniel Brühl) to determine the method behind the killer's madness.
Along the way, we get to see the early days of modern police work, like fingerprinting and psychological profiling, and also get familiar with a cast of characters rounded out by newspaper illustrator John Moore (Luke Evans) and confident police secretary Sara Howard (Dakota Fanning), who hopes to someday become the city's first female police detective. Despite the gothic, 19th-century trappings, The Alienist is telling a story that still feels resonant — a story of a country where people on the fringes are taken advantage of, and evil men think they're beyond the law. Anyone interested in crime thrillers with a sense of social commentary should consider this appointment viewing.
The Alienist will premiere on TNT Monday.
Movie: Please Stand By
We're doubling up on Dakota Fanning this week because she's been putting in the work. Here, Fanning plays a young autistic girl with a menial job at Cinnabon who runs away from her caregivers in order to submit a 500-page Star Trek script into a screenwriting competition. Directed by Ben Lewin (who also helmed the Paul Rudd-starring The Catcher Was a Spy, which recently premiered at Sundance), this flick is full-on eccentricity and a different sort of coming-of-age story. The quirk might be laid on a bit thick in the trailer, but Fanning is a winning enough performer to earn the benefit of the doubt — and besides, who really wants to hate on someone embracing their inner nerd and chasing a dream?
Please Stand By will be released in theaters Friday.