Martin McDonagh always used black characters as props. In 'Three Billboards,' it caught up with him.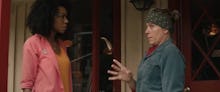 Three Billboards Outside Ebbing, Missouri has emerged as a surprise Oscar frontrunner after winning four Golden Globe awards, three Screen Actors Guild awards and notched seven Academy Award nominations on Tuesday, including for best picture and best original screenplay.
Despite boasting 93% on the critical aggregator Rotten Tomatoes, the film has drawn ire from some critics for its racial politics, namely the redemption arc it grants the racist police officer played by Sam Rockwell — an oaf whose bigotry and hair-trigger temper has prompted him to torture at least one "nigger," as Frances McDormand's character puts it — while rendering its black characters functionally invisible, giving them little in terms of screen time, agency or actual characterization.
None of this should be a surprise given writer-director Martin McDonagh's past work. The British-Irish playwright-turned-filmmaker is perhaps best known for his pitch-dark independent crime comedies In Bruges (2008) and Seven Psychopaths (2012). Black characters appear in marginal roles in both movies, serving as the mainly off-screen love interests of white protagonists. They are deployed, for the most part, as either props or plot devices and the violence that befalls them seems intended to underline something tragic and redemptive about their partners, rather than say anything meaningful about the black characters themselves.
The trouble arises in Three Billboards when McDonagh applies this same superficial treatment of race to a story that is largely about race. Not only does it seem at odds with the real-life pressure Hollywood is facing to promote equity in its ranks, it makes for a dramatically shallow film that ends up working harder to shock audiences with its brutality and irreverent humor than convey anything interesting about its subject.
The blueprint for Three Billboards was laid, to less egregious effect, by its two predecessors. In Bruges tells the story of two white Irish hitmen passing time in the medieval town of Bruges, Belgium, after a hit gone wrong, awaiting orders from their boss. During a drunken night at a bar, the two men — played by Colin Farrell and Brendan Gleason — are treated to the musings of an American who insists that a race war is on the horizon.
"There's gonna be a war, man," the man says. "I can see it. There's gonna be a war between the blacks, and between the whites."
Farrell's character spends several minutes bemusedly asking the man on which side other ethnic groups like Pakistanis and Vietnamese will fall. Then Gleason's character chimes in.
"My wife was black," he says, "And I loved her very much. And, in 1976, she was murdered by a white man. So, where the fuck am I supposed to stand in all this blood and carnage?"
The American, suddenly sheepish, brushes off the question with a vague comment about following one's conscience. The bar's denizens are otherwise left speechless. It is the only mention of race in the entire film, to my memory, and achieves some weight as a result. What it means is unclear: On the one hand, it presents an interracial relationship as normal to an extent rarely seen in Hollywood; on the other, the moment reads as a cheap means of signifying the core goodness of Gleason's hitman via his proximity to a blackness that does not get to speak for itself.
Seven Psychopaths features similar dynamics, albeit without announcement. Christopher Walken's character kidnaps dogs for ransom to pay for cancer treatment for his wife, who is black. Tom Waits' character goes on a cross-country, Natural Born Killers-style killing spree with his girlfriend, who is also black. In neither case is race mentioned. These are your typically outlandish crime-movie couples, with blackness serving as the only clear deviation from the norm. It's unfortunate that this has to mean anything at all — but in an industry where whiteness is as deeply ingrained as the celluloid on which film has historically been printed, it seems undeniable that audiences are meant to notice these filmmaking decisions.
The problem is that McDonagh grants none of these black characters enough screen time to take shape as three-dimensional characters. They are mere window dressings as a result, even as their white partners are enriched and redeemed by their existence.
But where McDonagh's first two films stumble almost imperceptibly, Three Billboards plummets. The film centers on McDormand's character and her campaign of humiliation against a small town police chief who has failed to solve the rape and murder of her teenage daughter. (McDormand and Woody Harrelson, who plays the police chief, are both nominated for Oscars, in the best actress and best supporting actor categories, respectively. Rockwell's also nominated for best supporting actor, and is the frontrunner.)
As an apparent means of emphasizing the department's villainy, McDonagh has made its main deputy a racist whose fellow officers have done nothing to punish or even stigmatize him for the aforementioned "nigger-torture" incident. The tense relationship between the police and Ebbing's black populace hovers over the film.
Rockwell's character is eventually fired by a black interim police chief as a sort of poetic justice. Other black characters appear and disappear as they are needed to highlight the drama that white characters are experiencing. McDormand's character eventually gets some semblance of justice, while Rockwell's character gets a new lease on life by helping her hunt down the alleged rapist. The black characters remain ancillary — one works at a gift shop with McDormand, and the other helps McDormand provoke the police chief using billboards painted with incendiary message. They receive little save for the satisfaction derived from their white friend getting what she wants.
One could argue that such is the nature of racial justice in the United States, so rare is redress wherever black people are brutalized by the police. Less clear, in Three Billboards, is why a racial justice subplot is only important insofar as it helps justify a white woman's personal vendetta. Race seems to exist in the film mainly as a bellwether for its white characters' moral development. Meanwhile, the film's black characters remain decorations in a narrative that, in key ways, belongs to them.
The fact remains that the Ebbing police department's ineptitude is indivisible from its institutional bigotry. Both set the plot in motion, and both mark who audiences are meant to root for. Confining black characters to the margins of a story that doesn't deal with racism is one thing. Using said racism as a fulcrum of your story while treating black characters as props is another. It should not surprise audiences that such a dynamic appears in a Martin McDonagh film. What should give pause is that such work is being celebrated with scant pushback, and rewarded by a Hollywood apparatus that claims to know better.