The 'RuPaul's Drag Race' subreddit thinks it knows who the secret bonus queen is on 'All Stars 3'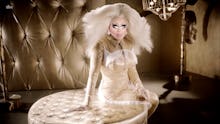 After months of teases and endless social media campaigning, RuPaul's Drag Race All Stars 3 finally premieres on VH1 Thursday night — but for a very passionate corner of the internet, not much of the first episode will come as much of a surprise. Or so they think.
On /r/RuPaulsDragRace, Drag Race superfans managed to predict the exact line-up of the All Stars 3 cast with 100% accuracy, using nothing but their skills as "Nancy Drews" — a process that boils down to stalking the social media accounts of drag queens for conspicuous gaps in posting or the sudden mass cancellation of gigs. But one big mystery still looms overhead: Who will be the secret, as-of-yet-unrevealed 10th queen teased by mother Ru?
If you believe in the sleuthing skills of the Nancy Drews, it'll be season one's winner, BeBe Zahara Benet. That's who they've been predicting since before the cast was revealed in October 2017 — but a recent slew of promotional images and trailers for Thursday's premiere seems to confirm some key points of the subreddit's theory.
"The night of the live filming of the All Stars 3 talent show, which I believe was on Aug. 1 of last year, there were a flood of messages that were saying that BeBe was in," a prolific Nancy Drew, known primarily as "robbysaur," told Mic in a phone interview.
But one message in particular stands out: Robbysaur said that someone claiming to have attended the premiere sent him a private message, detailing exactly what they saw during the talent show — including descriptions of outfits, performances and on-stage mishaps.
"Hey Robby," the message said. "I am writing this to you because it's killing me inside what you're posting. I WAS AT THE TAPING. ... I have always been a lurker [but] I made this account just to clear some stuff up."
Here's a screenshot of the full message robbysaur said he received, which he sent to Mic:
Here are the key details from the message to keep in your head:
• This person said Chi Chi did a "dance/baton number."
• This person said "Milk did her paper doll number."
• This person said actress Vanessa Hudgens was the guest judge.
• This person said BeBe was there.
In a promotional image from the premiere released by Entertainment Weekly on Jan. 17, Chi Chi "splits for the gods" in some kind of acrobatic dance number. Oh, and what's that on the ground behind her? Sure looks like a baton.
The baton appeared again in a short promotional video tweeted by the RuPaul's Drag Race account on Monday.
Onto the next piece of evidence: In the background of the EW promotional still image, Milk, on the far left, appears to be wearing a nude bodysuit. According to the Nancy Drews, this lines up with the prediction in robbysaur's message that she performs her "paper doll number."
In this number — that Milk has performed before — she dons a nude bodysuit and changes appearances throughout the course of the song, using paper dresses that attach to the bodysuit. You can see a video of Milk's paper doll number from August 2016 here:
The final piece of evidence: This person also said Hudgens was the guest judge that night. Incidentally, Hudgens is on the list of guest judges for the season — alongside House of Representatives Minority Leader Nancy Pelosi, for some reason — that was revealed on Jan. 18.
Since all of these claims appear to check out, it stands to reason that robbysaur's source is credible when it comes to saying BeBe was present at the taping. And if that's the case, then it does appear that the Nancy Drews are right: It looks like BeBe will be the 10th queen, something that robbysaur said he and the other members of the subreddit are sure of.
"We are 100% on [BeBe]," robbysaur said. "There really are no other potential candidates. ... It would be a complete shock if it was anybody else."
They'll know for sure when All Stars 3 premieres Thursday night at 8 p.m. Eastern on VH1.