Why the growing partisan divide keeps us coming back to government shutdowns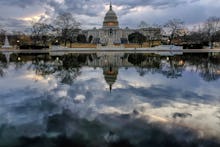 Welcome to Mic's daily read on Donald Trump's America. Want to receive this as a daily email in your inbox? Subscribe here.
Monday's dispatch: Why we're shut down — and not backing away
The government shutdown may end after a planned Senate vote Monday. The House is considering legislation to fund the government through Feb. 8, and Senate Republicans are trying to convince Democrats they'll hold a vote on immigration reform by the same date — if Democrats relent and let the government reopen.
A firm agreement has not been announced publicly. But even if the shutdown ends Monday, it won't be long before Congress returns to the same situation. That's because the political conditions that brought Congress to this point have only worsened since the last shutdown, in 2013.
Back then, House Republicans moved repeatedly to gut the Affordable Care Act while Senate Democrats opposed all of their proposals. That led to a shuttered federal government for two weeks in October 2013.
Since then, the political divide in the United States has deepened. And Donald Trump's election has emboldened Republicans to please his base of supporters, who are not politically aligned with the majority of Americans.
In October, the Pew Research Center found the widest partisan divide between Republicans and Democrats since it began the survey in 1994. Across 10 political values, Republicans and Democrats are divided by an average of 36 percentage points. In a survey released in December, respondents told Pew the divide between Republicans and Democrats is deeper than the divide between blacks and whites, rich and poor or residents in rural and urban areas. That metric has also risen since it was first measured in 2012.
As for Trump specifically, the country's opinion of him has changed little in the past year. At his inauguration, he had a 45% approval rating. That dropped to about 40% by May and as low as about 37%, according to FiveThirtyEight's poll of polls. Trump's approval rating has hovered between 37% and 40% for months — indicating a hardening of views among Americans, despite the high-profile chaos of his presidency.
Ideology over policy has also deepened since the 2013 shutdown. Since Republicans lost the 2012 presidential election, punting on immigration has defined a GOP congressional delegation that cannot agree on the issue. Former House Speaker John Boehner (R-Ohio) faced a rebellion among House Republicans over an immigration deal he struck with then-President Barack Obama. And Speaker Paul Ryan (R-Wis.) took the speakership while promising he wouldn't touch immigration reform.
Trump's decision in September to announce the end of protections to nearly 800,000 immigrants whose parents brought them into the U.S. illegally has forced Ryan to take up immigration. But the ideology Ryan faces has not changed. House Republicans have balked at protecting recipients of the Deferred Action for Childhood Arrivals program as part of a deal to fund the government and the military. And many Republicans want increased border security, including funding Trump's proposed border wall, as a condition of a deal to let DACA recipients continue to live and work in the United States. House Republicans are praising Ryan for, so far, not considering an immigration deal during a shutdown — the core demand of Senate Democrats.
The opposite is true among Democrats. With Republicans in control, they appear keen to continue the shutdown until action is taken, or solidly is assured, to protect DACA recipients. Some Democrats even hope to achieve a more comprehensive immigration deal. With Democratic voters moving left and showing nearly unanimous support for protecting DACA recipients from deportation, the party is eager to show progress in the 2018 primaries. Most Americans don't want a shutdown over DACA, but a majority of Democrats do, a CNN poll found.
Negotiations are now underway on Capitol Hill. Members of Congress know that their approval rating is near its record low, but a true bipartisan deal on immigration is still a ways off. Even if the Senate passes such legislation, a deal that pleases Democrats and Republicans will face long odds in the House. And then the bill would still have to make it past Trump.
Now more than ever, the political incentives for both sides in Washington are to cater to their political bases of support. That strategy has dominated since the 2010 midterm elections, and is likely to continue.
Today's question: Given our political division, does this shutdown surprise you?
Please email us at trumpsamerica@mic.com with your thoughts.
This week in Trump's America:
Shutdown watch: The shutdown may prevent Trump from traveling to Davos, Switzerland, for a summit of global leaders and CEOs. That news comes as reports from the New York Times and Washington Post say Trump is doing little to help Congress come to a deal to end the impasse.
CNN summed up how a shutdown will impact everyday Americans. The longer it lasts, the worse it gets.
Trump's campaign arm says Democrats are "complicit" in all murders committed by undocumented immigrants as the shutdown drags on.
A final shutdown point: Politico reviewed how the Democratic fleecing of the GOP during the 2013 shutdown hurt the next deal on spending. And don't forget voters said the GOP was at fault for that shutdown — then rewarded the party during the 2014 midterms. So far, less than 10 months before this year's midterms, voters hold Republicans at fault for the shutdown — but by a narrower margin than in 2013.
The context: Hundreds of thousands of women (and men) took to the streets over the weekend a year after the first Women's March. See these photos from the New York Times. The event showed that the American left continues to grow in size and coordination, Mic's Andrew Joyce reported.
This growth also complements the historic number of women running for office — many of them in down-ballot races to oppose "GOP overreach" on issues like access to abortion. New York magazine's the Cut spoke to more than 200 women running for elected office for the first time. A record number are already running for Congress.
Media Matters found the Sunday political TV shows barely mentioned Saturday's activism — which contributes to the possibility the U.S. media may again be missing a major political story.
ICYMI: Mic's Emily Singer reviews how Trump has targeted blue states in his first year in office. The list of attacks (both realized and failed) is long.
Democrat advantage narrows: A new CNN poll found 49% of voters want Democrats to control Congress, compared to 44% for Republicans. That is a slimmer advantage than Democrats had at the end of 2017.
On the flipside: The Democratic Congressional Campaign Committee, responsible for electing House Democrats, announced a record $9.5 million in donations in December of an off-year. The DCCC raised $105 million in 2017 — with $42.6 million from online donors and 2.88 million gifts under $200.
Interesting interview: The Intercept's Glenn Greenwald tells New York magazine why he believes intense focus on Russian meddling in the 2016 presidential election ignores the real motivations for Trump's victory and why people supported Bernie Sanders.
Trump Cabinet secretary asleep? Commerce Secretary Wilbur Ross has been sidelined by Trump. Ross has failed to effectively negotiate new trade policy with the Chinese — and regularly falls asleep in meetings, Axios reported.
Rank your news: This week, Facebook will begin letting users tell the platform how much they trust a news source. This ends Facebook's own vetting of news sources, and instead turns it over to users. Critics say users will not be able to fairly vet news sources to influence what their friends and family see on the platform.