White House defends ad condemning Democrats as "complicit" in murders by immigrants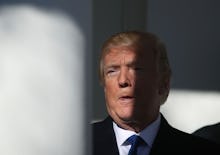 The White House on Monday defended an ad President Donald Trump's re-election campaign released over the weekend that says Democrats are "complicit" in murders committed by undocumented immigrants.
"What it's trying to do is trying to show that we do have a real security threat on our border," White House director of legislative affairs Marc Short said on CNN of the ad.
"We have serious security concerns and it's being ignored in a lot of the debate right now," Short added.
The ad begins with an image of an undocumented immigrant using vulgar language to say he's unremorseful about murders he had committed, and goes on to say that Trump is fighting for a border wall and immigration policies that would keep criminals out of the U.S.
"Democrats who stand in our way will be complicit in every murder committed by illegal immigrants," the ad states.
Over the weekend, Short had tried to distance the White House from the ad, telling Meet the Press' Chuck Todd that the ad was, "produced by an outside group."
The ad was produced by the Trump campaign. It ends with Trump saying he approves the message.
The ad is one of a number of issues derailing talks to re-open the federal government, which shut down over the weekend after the Senate failed to vote on a bill that would fund the government.
Democrats want to tie a bipartisan agreement to codify the Deferred Action for Childhood Arrivals program into law — giving permanent protections to undocumented immigrants who were brought to the U.S. as minors. Giving legal protections to DACA recipients is widely popular, with 87% of voters supporting those protections, according to a CBS News poll.
Republican leaders, however, are refusing to negotiate on a DACA fix until the government re-opens — leaving Congress at a stalemate and the government shuttered.
Trump has largely remained on the sidelines of the negotiations, according to multiple reports. He did, however, tweet Monday morning that Democrats are "turning down services and security for citizens in favor of services and security for noncitizens."
"Not good!" Trump tweeted.
The Senate is slated to vote at noon on a bill that would fund the government through Feb. 8 — shorter than the funding bill the House passed on Thursday. Senate Majority Leader Mitch McConnell said that if there's no action on a DACA bill by that Feb. 8 deadline, he'd allow a vote on a DACA agreement.
McConnell, however, promised Republican lawmakers action on immigration and health care fixes in exchange for their votes on the tax reform legislation that passed in December. And he's yet to make good on those promises.
And as such, Democrats have not yet agreed to McConnell's latest promise on DACA.