SZA is Gap's newest campaign star: "I wondered if Stevie Nicks was going to just pop out of nowhere"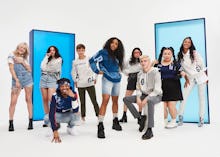 Following in the footsteps of Naomi Campbell, Lenny Kravitz, Joan Didion, Run DMC and so many more greats, Grammy-nominated neo-soul/R&B singer-songwriter SZA is Gap's newest campaign star, repping the brand as it approaches its 50-year mark.
"Definitely don't even know how I low-key got gifted the opportunity to be involved with them, just because they're super iconic and only have worked with iconic people," SZA said in an interview with Mic.
She's not kidding, either. In addition to the above mentioned, Gap has also teamed up with Salma Hayek, Cher, Janelle Monae, Sarah Jessica Parker and more over the years. "A favorite is very, very difficult. That would be ridiculous," SZA said when asked about past campaign stars.
The campaign features an array of talent including record producer Metro Boomin, Miles Heizer (13 Reasons Why), Awkwafina (Ocean's 8), Bria Vinaite (The Florida Project), singer Sabrina Claudio, actress and comedian Naomi Watanabe, YouTube star Connor Franta, TV radio personality Maya Jama and makeup artist Sir John. It includes the Metro Boomin-created remix of the song "Hold Me Now" by the Thompson Twins as well as the brand's new logo remix collection featuring Gap's iconic logo throughout the years.
"It ended up being something really beautiful and really cool and really nostalgic and positive," SZA, whose song "The Weekend" is currently in the Top 50 on the Billboard Hot 100, said of the shoot. "It's so funny how this whole iconoclast of different people and different ideas came together. It's Gap! It's weird. It's like, anything is possible. I wondered if Stevie Nicks was going to just pop out of nowhere. Gap is like the fashion Disney. It's like Got Milk in that it's mysteriously always messaging the cool stuff."
Watch the full campaign video below: