Hijabi model who made history with L'Oréal Paris ad steps down after anti-Israel tweets resurface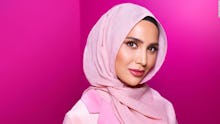 Amena Khan, who made history just days ago when she became the first hijabi model to star in a L'Oréal Paris hair campaign, is stepping down after the discovery of a number of anti-Israel tweets she made in 2014.
"I deeply regret the content of the tweets I made in 2014 and sincerely apologize for the upset and hurt that they have caused," Khan posted on Instagram on Monday. "Championing diversity is one of my passions, I don't discriminate against anyone."
"I have chosen to delete them as they do not represent the message of harmony that I stand for," Khan continued. "I recently took part in a campaign, which excited me because it celebrated inclusivity. With deep regret, I've decided to step down from this campaign because the current conversations surrounding it detract from the positive and inclusive sentiment that it set out to deliver."
In the tweets, which are indeed now deleted per the Jerusalem Post, Khan called Israel a "sinister state" and claimed the country is full of "child murderers."
In a statement to the Jerusalem Post, a L'Oréal spokesperson said: "We appreciate that Amena has since apologized for the content of these tweets and the offense they have caused. L'Oréal Paris is committed to tolerance and respect toward all people. We agree with her decision to step down from the campaign."
Before stepping down, Khan had championed L'Oréal for including her in the campaign, telling Vogue U.K., "How many brands are doing things like this? Not many. They're literally putting a girl in a headscarf — whose hair you can't see — in a hair campaign. Because what they're really valuing through the campaign is the voices that we have."
As of this writing, her Instagram profile still notes that she is a L'Oréal ambassador.
Mic has reached out to L'Oréal Paris for comment and will update this post when we hear back.