Everything we know about Lindsay Lohan's upcoming beauty line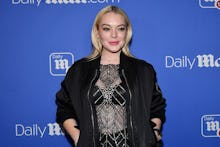 You definitely now know about Fenty Beauty, but do you know about the — maybe, possibly, hopefully — forthcoming Lohan Beauty?
That's right, Lindsay Lohan is and hoping join the likes Kylie Jenner, Kim Kardashian and Rihanna as a celebrity with a successful makeup brand of her own.
Sitting down with Wendy Williams on her show Jan. 12, Lohan announced that among her many projects — one of which includes buying an island near Dubai and naming it "Lohan Island" — is what she's calling a "lipstick beauty line," with Lohan showing a preview image of the line on the show.
"I have a lot of little projects there because I like to keep busy," Lohan said. "So, when I'm finished filming [her British sitcom] Sick Note then I can go back to Dubai, start the lipstick, discuss that and then design this island — Lohan Island."
Now if you know anything about Lohan, you know that the woman loves a fashion side project. Back in 2008, she had a now-notorious designer leggings line — called 6126, in honor of Marilyn Monroe's birthday — that failed to take off. In early 2017 she mysteriously announced a fashion line, which may include modestwear, that we haven't heard of since. And on Wendy Williams' show, when Williams commented on her ring, Lohan dropped that it's from her jewelry line, which she again mysteriously announced in June.
But apparently Lohan Beauty is on its way, because since talking to Williams, Lohan has posted Instagram images of possible Lohan makeup products with the hashtag #LohanBeauty.
Based on these mockups, we can definitely expect Lohan Beauty to include lipstick and some kind of powder/concealer case.
But looking at the image Lohan showed on Williams' show, we already have one concern. What's made Fenty Beauty particularly successful is the attention to the inclusive shade range and thus far, all we've seen from Lohan is one very light shade.
Of course that's just one image, but since we are always rooting for Lohan, we hope she understands that the future of makeup isn't just a bunch of very light powder shades and lipsticks.
You can watch Lohan's entire interview with Williams below.