Is 'Three Billboards' a shoo-in to win best picture at the Oscars? Not quite.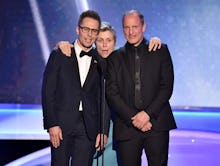 Academy Award nominations were announced on Tuesday and Three Billboards Outside Ebbing, Missouri, already a big winner at the Golden Globe and Screen Actors Guild Awards, scooped up a total of seven nominations, including for best picture, best original screenplay, best actress and two nods in the category for best supporting actor.
Three Billboards already earned a Golden Globe for best motion picture drama, and on Sunday it won the SAG award for outstanding performance by a cast in a motion picture. Individual performances from the film have also earned accolades, including awards for star Frances McDormand and Sam Rockwell, who are nominated in the best actress and best supporting actor categories, respectively.
To some, Sunday night's SAG Awards seemed to confirm that the film is on an unstoppable march toward the best picture Oscar — which didn't sit well with everyone.
The reason for the mounting backlash against the film? Three Billboards — which is directed and written by Martin McDonagh, who originally hails from the United Kingdom — focuses on a fictional small town in middle America. McDormand (who's the favorite in the best actress category, after winning at the Golden Globes and SAG Awards) plays the lead character, Mildred Hayes, a woman whose teenage daughter was raped and murdered several months before the film begins; in an effort to hold the police accountable for not making any breaks in the case, McDormand's character rents the titular three billboards, covering them with a message calling out the police department's ineffectualness.
The bulk of the controversy surrounding the film hinges on one of the officers on the force: Jason Dixon, a violent racist who tortured a black suspect in his custody, something that happened before the movie's story opens and that we never see via flashbacks.
But by the end of the film, Dixon (played by Rockwell, who's widely considered the frontrunner in the best supporting actor race, after nabbing wins at the Golden Globes and the SAG Awards) seems to achieve a sort of redemption — and his story arc is far fuller than anything offered to the characters of color in fictional Ebbing, Missouri, who are relegated to the film's periphery. (The suspect that Dixon tortured, for instance, is never seen.) The movie's handling of race, and of Dixon's character in particular, has been criticized as insensitive, ill informed and manipulative — criticisms that ring out particularly loud when there are other films (like, say, Get Out or Lady Bird) that are being championed for their diversity and nuanced narratives.
"It is asking a lot of people to watch a story in which we root for a racist and abusive police officer in the name of his own redemption, but it is asking even more of the audience if Dixon himself does no actual work in the name of earning that redemption," critic Hanif Abdurraqib wrote in the Pacific Standard.
Writing in the New York Times on Thursday, critic Wesley Morris called Three Billboards a "contentious Oscar favorite" that seemed to be taking the "H.O.V. lane through the awards circuit."
"And the more love the prize givers throw at it, the more some people want to throw themselves off a cliff," Morris wrote, going on to criticize the film's tone as "off" for reasons beyond the subplot involving Rockwell's character. "It's like a set of postcards from a Martian lured to America by a cable news ticker and by rumors of how easily flattered and provoked we are," Morris wrote.
But is Three Billboards really in the fast lane to a best picture win? Despite its apparent momentum, victory isn't necessarily a foregone conclusion.
Since the year 2000, nine out of 17 — or slightly more than half — of films that won the SAG award for best outstanding performance by a cast in a motion picture went on to win the best picture Oscar. And nine Golden Globe winners for best motion picture drama or best comedy or musical went on to win the top Oscar. So the odds are slightly in favor of Three Billboards winning big at the 90th Academy Awards on March 4, but those wins don't guarantee an Oscar for best picture.
Also worth noting: The Producers Guild Awards, historically a solid predictor of Oscar wins, happened on Saturday and awarded its best picture equivalent to The Shape of Water, a film that racked up a total of 13 Oscar nominations on Tuesday, more than any other movie.
Its wide range of nominations indicates that The Shape of Water has support throughout the Academy's membership, which could pose a challenge to Three Billboards' potential dominance. There's also the fact that Guillermo del Toro, the director of The Shape of Water, beat McDonagh to win the Golden Globe for best director. It's possible that Del Toro's simply on a path to win best director at the Oscars, while Three Billboards walks away with best picture, but there's another wrinkle: McDonagh isn't nominated for the best director Oscar.
Since 2000, only one best picture winner (2012's Argo) failed to score a nomination in the best director category. So, yes, there's a precedent for this, but McDonagh's snub can't help but feel like a dent in his film's Oscar campaign. (McDonagh and Del Toro will square off again at the Directors Guild Awards on Feb. 3, which could also provide some insight as to how Oscar night will ultimately shake out.)
In recent years, other films have headed into the Oscars with seemingly unstoppable momentum only to lose out in the best picture category. In 2017, La La Land seemed poised to win — it briefly did — after sweeping the Golden Globes. But at the last second it lost out to Moonlight, a much smaller film. In 2016, The Revenant also seemed like a sure bet, but it was beaten by Spotlight.
Three Billboards is still a frontrunner, no doubt, and history says it's got a healthy chance of being crowned best picture, but the controversy around the film and discussion of its muddled message are real. And if the most recent Oscars taught us anything, it's that you never know for sure what's going to happen when the best picture envelope is opened.