Court orders redrawing of Pennsylvania's congressional map, giving Democrats a 2018 boost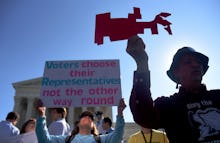 The Pennsylvania Supreme Court ruled Monday that the gerrymandering of the state's current congressional map violated the Pennsylvania Constitution. The court ordered the map redrawn, a move that could net Democrats multiple seats and put them a step closer to regaining control of the House in the 2018 midterm elections.
Opponents of the map argued the state legislature violated the state's constitution by drawing House districts to expressly benefit Republicans.
Democrats currently hold just five of Pennsylvania's 18 House seats — despite the fact President Barack Obama carried the state twice, while President Donald Trump won it by less than one point in 2016. That puts Pennsylvania among the ranks of the most gerrymandered states in the country.
The state Supreme Court agreed with that assessment. Because the decision was a matter of state, and not federal law, it's unlikely the U.S. Supreme Court will intervene.
Some of Pennsylvania's districts are extremely gerrymandered, including the state's 7th District — a bizarrely shaped seat Republicans traditionally win, but one Hillary Clinton carried in 2016 by a slim two-point margin. Rep. Pat Meehan (R-Penn.), who is now mired in a sexual harassment scandal, represents the district. On a new map, however, it could become much more Democratic-leaning.
Redrawing the map could net Democrats anywhere from one to six seats in the state, Daily Kos elections writer Stephen Wolf reported. This would help Democrats in their quest to pick up the 24 seats necessary to win a House majority.
The Pennsylvania General Assembly — currently controlled by Republicans — has until Feb. 15 to redraw the map. It's possible Democratic Gov. Tom Wolf could veto the new map, which would put the job of refiguring it in the court's hands.