How a 25-year-old woman took over Oklahoma's Democratic party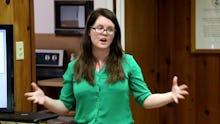 For years, Oklahoma has been considered hostile terrain for Democrats and progressives.
In the 2016 election, not a single Oklahoma county voted for Hillary Clinton over Donald Trump. And in January 2017, Gallup ranked Oklahoma the nation's 4th most conservative state, just ahead of Alabama, based on the percentage of the state's population that self-identified as conservative. In February, the Washington Post placed Oklahoma on its list of 10 states where the Democratic Party is on "life-support."
Then something changed. In May, Anna Langthorn, then 24 years old, ran for and won the race to become the chair of Oklahoma's Democratic Party, on a platform of better preparing candidates to run for office.
"When candidates file, we say 'best of luck, hope it works out for you,'" Langthorn said in a May speech promoting her candidacy. "We don't provide any guidance, we don't provide any training, we don't provide any resources, and I think personally that's why we continue to lose."
Since Langthorn won, Oklahoma has held four special elections for state legislative seats that were held by Republicans. Every one of them has flipped from Republican to Democrat, despite all being solid-red Trump districts.
Democratic candidate Allison Ikley-Freeman, a 26-year-old mental health counselor and out gay woman, won a seat that Democrats had spent hundreds of thousands of dollars seeking to win in 2016 but lost by 15 percentage points.
"I really felt that there needed to be a radical change in our state party offices," Langthorn said in an interview. "Now we are, in every instance that we can, working to reduce our operating expenses and reinvest any leftover money we have directly into campaigns, directly into getting candidates elected."
Of course, the success of Oklahoma Democrats under Langthorn has been aided by backlash to the presidency of Donald Trump. Yet no conservative state has seen the kind of consistent Democratic victories that Oklahoma has seen in the Trump era.
Republicans swept four major special elections for congressional candidates in Kansas, Georgia, and Montana. And even as Democrats picked up a number of state and local seats in special elections across the country, the unlikely victories in deep red Oklahoma have stood out and garnered national attention.
"It's a perfect storm of variables, and I don't want to take too much credit, but I also don't want to give Donald Trump too much credit," Langthorn said, adding that victories are also aided by dedicated volunteers.
Oklahoma's unprecedented victories also come at a time when many state Democratic parties — especially those in red states — are more beleaguered than ever. The national Democratic party has come under considerable fire from progressives over the past few years for failing to invest in its state parties and funneling money raised on their behalf into the presidential campaign of Hillary Clinton.
A report from Vice News published Jan. 19 found that the DNC has thus far failed to deliver on a promise from its new chair, Tom Perez, to create a $10 million fund for investing in state parties and may not even have that much money to spend in total.
Despite the icy relationship that many red state Democratic parties have with the DNC, Langthorn says she has had a very positive relationship with the committee, and can empathize with their financial situation.
"I'm probably maybe more understanding than a lot of other state party chairs are because I inherited a similar situation to the DNC," Langthorn said. "When you have an organization that doesn't have a lot of credibility because of past leaders in the organization, you have to do a lot of work to rebuild that credibility."
On that front, Oklahoma still has a long way to go. Two of the 17 congressional races this year that don't have a declared Democratic candidate are in Oklahoma, despite the fact that one of those races will likely be for an open congressional seat.
But Langthorn says her priorities are at the state level.
"It's our goal to field candidates in every seat that we can, up and down the ticket," she said. "However, we also have statewide races this year and obviously legislative races, which those are our priority because we have a lot of ground to make up. It's our goal to make sure that we have a full ticket of statewide candidates and a healthy bench of legislative candidates. Then we'll look at Congress."
Now 25 years old, Langthorn is also changing the way that the state party approaches a younger generation of voters.
"I think I have little bit better understanding of a broader spectrum of voters, that I understand a better way to communicate with my peers and I understand my peers' perceptions better," Langthorn said. "The reality that most Millennials don't believe in a two-party system, that they associate the people who have been in power regardless of whether they're Democrats or Republicans with the status quo and therefore with failure."
That strategy could prove to be key to shifting the party's longterm position in the state. Millennials as a generation are significantly more progressive than previous generations, even the ones that live in deeply conservative states. They also far outnumber any other generation, and mobilizing them to vote has the potential to radically change the political character of any state.
Currently Oklahoma is considering a ballot initiative that would allow voters in the state to decide whether to legalize medical marijuana — an issue that tends to divide along generational lines. Putting the question on the ballot could encourage younger voters to turn out. Both Democrats in Oklahoma's gubernatorial race support putting the question on the ballot while the crowded field of Republican candidates has largely demurred on the issue.
Langthorn is also bringing her values as a young progressive to bear in other ways. She's openly supportive of her staff's decision to unionize the state Democratic Party offices.
"We're in the process of actually unionizing our staff which is going to be really cool," Langthorn said. "The staff initiated that themselves before I was elected, but when that is finished — when we finish our contract negotiations, which we're in the midst of right now — we'll be the only state party in the country that has a unionized staff."
But ultimately her goal is to try and reach a broad swath of voters in Oklahoma, even those in rural bastions of conservatism, by rebranding the Democratic Party as a party that can bring tangible social goods and services to voters.
"We've allowed the Republican Party to define us, but [Democrats] believe in the basic principles of fairness and hard work and equality." Langthorn said.
"When we're talking about health care, when we're talking about things like Medicaid expansion or a living wage — having a living wage affects someone in rural eastern Oklahoma just as much as it affects someone in urban Oklahoma City and maybe more so because those are the places actually where the jobs are disappearing, poverty conditions exist and having a government that protects people is more vital than ever before."