In the blink of an eye, SZA went from 0 to 1,000. This is how.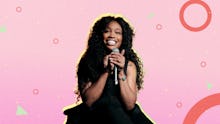 It's pronounced "Sizza." Though obvious to some, it's been puzzling for many; the mere pronunciation inspiring a 300-word article titled "Here's How to Pronounce 'SZA,' If You Were Wondering."
She's nominated for five Grammy awards, the most for any female artist this year. She picked up two Soul Train awards in November, made her Saturday Night Live debut in December and picked up an NAACP Image award earlier in January. She has collabs out with Kendrick Lamar and Maroon 5 — both of which charted on Billboard — along with her own Hot 100 single, "The Weekend." She's even the new face of Gap.
This wave of accolades and accomplishments, all in recognition of her critically acclaimed album Ctrl, may at first glance seem like it happened in blink of an eye, but in truth it was a long time coming. Though she's up for best new artist at the Grammys, her debut EP, See.SZA.Run, came out in 2012, followed a year later by S.
"Stuck in Nintendo, get the controller/ Street Fighters and such/ I yell, 'Finish him'/ (Down goes Frazier)/ I yell, 'Finish him'/ Come Desdemona/ Othello and tragedies/ Shakespearean sorrows/ Where do I begin?" she sang on "Child's Play," a track featuring Chance the Rapper on her third EP, Z, released in 2014.
This to say, SZA's maturation into the woman revealed on her 2017 album was a journey long shared with her loyal listeners. "You are but a phoenix among feathers/ You're broken by the waves among the sea/ They'll let you die, they'll let you wash away/ But you swim as well as you fly," she sings on Ctrl's penultimate track, "Pretty Little Birds." She is describing the God-like qualities of a past lover, but for many listeners, that phoenix is SZA.
Ahead of Sunday's Grammy Awards ceremony, Mic chatted with the young superstar about her style, her hair, her penchant for artistic annihilation and, most importantly, her next album.
Mic: Let's start with the fashion. From ripped-collar Pink Floyd T-shirts paired with leather chaps to Moschino mixed camo prints, your style is unedited yet thoughtful. What's most important for you in fashion?
SZA: Comfortability.
You've cited Wes Anderson as a style influence. What other artists or pieces of art influence you?
SZA: Well his films are a super, super important part of all of my inspiration: colors, textures, scenes. Sometimes I dress like I'm in a certain scene, like I would imagine what color correction would go with this outfit and what music. Like when you watch Scarface and Michelle Pfeiffer pulls up with Al Pacino in that drop-top and her bomb-ass hair is blowing in the wind and she just looks so fire. It's moments like that. Wes Anderson creates that same visual scape.
You spoke to Vogue about your hair in 2014, and I'm curious: In the three or four years since, how has your relationship with your hair changed?
SZA: It hasn't, I guess. I just don't take it as seriously because I have no time to do it and I have no time to care if it falls out, so I just keep going and have more fun with it.
Your videos for "Supermodel" and "Love Galore" both end with you annihilating past lovers. Would you call this a throughline?
SZA: Both of those men represented the antithesis of love and [were] kind of maybe the catalyst for both of those songs. I think both of those men fed into that insecurity or whatever that is, that seed, that insecure seed in women where, 'Oh, he just wants to have sex,' or, 'He thinks it's funny when you think more of yourself.' Those kind of people have to be annihilated.
You are a real source of positivity for a lot of people online, myself included. How intentional is that?
SZA: Definitely not! It's so funny, I don't consider myself one of those people, but there are people that I consider that. I'm just honored that you even consider me one of those people because... definitely not. Either I have a dry-ass caption or I tell the truth, but I realize with everything that happens... I don't really know what's happening. I don't really know how to process it, but I guess if I just stay honest and try to report live from my heart as often as I can that it will translate, because that's what I do with my album. So I'm just living with my skin on the other side 'cause I think that's my duty or something. It feels good. I'm into it.
The screams I heard from the crowd when you came on-stage at Irving Plaza [in New York City] were deafening. How do you describe the unique bond you have with your fans?
SZA: I never thought that I would have these kind of fans. I kind of reserve this experience for other people. They're not my fans; they're more-so like my friends. All of them have the exact same personalities as me or the exact same things hurt them. I guess the things that touch them in my music are the things that are dark about me or uplifting about me. It's weird, we're super similar. All of them are real fuckin' smart. I don't know if that means that I'm smart or if I just attract smart people.
But I am grateful. I'm surprised and shocked at all the pretty-ass, amazing, cool-ass kids and people that come to my shows. It's bizarre. They're polite as hell and so thoughtful. They're definitely my family. I trust them when they run up to me in the street, even though they might be crazy, cause I'm a little crazy. I know they mean well.
In so many ways, your album is a love letter to your mother. I'd be remiss not to ask if you've thought at all about your follow-up album.
SZA: I wrote solely from a personal perspective on my last album, and this time I want to just tell the truth as I see it — of the world, not necessarily my perspective of the world, not from my life only. Because maybe if the way that I talk about my love life can heal people in that way or talk about self-confidence, maybe the way I see the world can help other people just in life in general. I just want to widen — widen the effect of anything I can spread positively.