Rachel Morrison, the cinematographer of Netflix's 'Mudbound,' just made Academy Awards history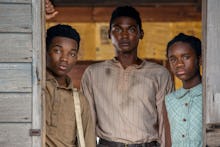 Tuesday morning, actors Andy Serkis and Tiffany Haddish announced the entire roster of Oscar nominees, which included a historic first: Rachel Morrison, the cinematographer for Netflix's original film Mudbound, is the first woman ever to be nominated for best cinematography.
The other films nominated against Mudbound in that category are Blade Runner 2049, Darkest Hour, Dunkirk and The Shape of Water. In 2016, women made up just 5% of the cinematographers of the year's 250 top domestic-grossing films, according to the Los Angeles Times, making Morrison's nomination that much more remarkable.
Notably, Netflix's WWII-era drama set in Mississippi got a few other Oscar nods, too, marking a potential shift in the Academy's perception of work released by streaming platforms. Despite enjoying critical acclaim on a number of projects across film and television, Netflix has struggled to gain much of a foothold within the Academy thus far. In 2017, Netflix's The White Helmets won the award for best documentary (short subject), but this is the most recognition the streaming giant has had in more prestigious categories.
Mudbound's other nominations include a nod for Mary J. Blige in the best supporting actress category, "Mighty River" for best original song, and Virgil Williams and Dee Rees for best adapted screenplay. Blige sings on "Mighty River," making her the first person to be nominated for best original song and best supporting actress in the same year.
Of course, it remains to be seen how many of these categories Mudbound will actually win — if any. We'll know for sure when the 90th Academy Awards, hosted by Jimmy Kimmel, air March 4.