Chuck Schumer faces fire from every corner of the Democratic Party over shutdown deal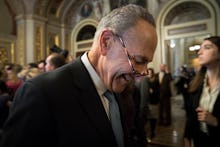 Welcome to Mic's daily read on Donald Trump's America. Want to receive this as a daily email in your inbox? Subscribe here.
Tuesday's dispatch: Complaints about Schumer pile up
While continued punting by lawmakers on protecting recipients of the Deferred Action for Childhood Arrivals program has made those nearly 800,000 immigrants the main victims of congressional inaction, Senate Minority Leader Chuck Schumer (D-N.Y.) may be the major political casualty of the government shutdown.
After his decision on Monday to lead Senate Democrats to end the impasse, Schumer faces blowback from members of his caucus, House Democrats, immigrant groups, progressive activists and others fuming over his handling of the shutdown. Why, they wondered, would Democrats OK shutting down the government Friday, demanding protection of DACA recipients, only to back off that position three days later?
"Mitch McConnell called their bluff, and they folded immediately," Indivisible cofounder Ezra Levin told Mic Monday. Progressive, immigrant and civil rights groups issued statements slamming Schumer for voting with Republicans to fund the government through Feb. 8.
When asked if Senate Democrats were "screwing" House Democrats, Rep. Steny Hoyer (D-Md.) said "they are," according to Politico. Such frustration from Democrats in the lower chamber was clear Monday, as many had expected Senate Democrats to hold firm on the demand that immigrants who were brought to the United States as children have their legal status protected as part of any deal to fund the government.
Among Schumer's caucus, 16 progressive senators, including several potential Democratic 2020 presidential contenders, voted against the deal to reopen the government. None of them questioned Schumer's leadership, but many expressed grave misgivings about the strategy he employed — particularly Sens. Kamala Harris and Dianne Feinstein, the two Democratic senators from California, where 200,000 DACA recipients face deportation.
Republicans began hammering voters in swing states like Florida, Ohio and Pennsylvania with ads indicating their Democratic senator had shut down the government to protect illegal immigrants. That quickly led several Senate Democrats to reconsider their position, the Washington Post reported, and put pressure on Schumer to end the standoff.
President Donald Trump, meanwhile, is drawing praise from his staff and national media for how he handled the shutdown. After saying on Friday the White House would not negotiate DACA during a shutdown, Trump went quiet. Sen. Mitch McConnell (R-Ky.) reportedly advised Trump on Friday to let the Democrats come to the GOP. And that's ultimately what happened. The "keep Trump contained" strategy, as the Washington Post dubbed it, paid off, as it kept Democrats from being able to beat up on the president.
In sum, a three-day shutdown ended with Senate Democrats backing off, to the ire of their base and House colleagues, as Trump got a rare win. The government is now funded through Feb. 8, at which point Senate Democrats could move toward another government shutdown — though Monday's decision makes it difficult to believe Schumer would let the situation come to that.
The reality: When asked if the House would consider the bipartisan immigration bill McConnell promised Schumer the Senate would; however, House Majority Whip Steve Scalise (R-La.) said Monday that "the House wasn't part of that deal." And while McConnell promised Democrats consideration of immigration legislation, he didn't promise to protect DACA recipients and will only consider doing so if the government stays open.
Today's question: What is your view of Schumer's decision to end the shutdown?
Please email us at trumpsamerica@mic.com with your thoughts.
Tuesday in Trump's America:
FBI turmoil: Under pressure from Attorney General Jeff Sessions to remove Deputy FBI Director Andrew McCabe, FBI Director Christopher Wray threatened to resign, Axios reported. McCabe has drawn the ire of Trump and the conservative media after reports that McCabe's wife received money during her 2015 state Senate run from groups tied to a Hillary Clinton ally.
More shutdown: Here's a look at the three-day shutdown by the numbers — and what to expect if the government shutters again on Feb. 8.
There's little precedent to suggest the political winners and losers of this shutdown will pay a political price with voters this fall. In a nutshell, no one will remember it in 10 months.
Trade decision: Trump will sign Section 201 orders Tuesday, invoking a rarely used section of federal trade law to impose 30% tariffs on solar panel imports into the United States. It also places a tariff on washing machine imports.
Gerrymandering: The Pennsylvania Supreme Court ordered on Monday that the state's congressional districts be redrawn in advance of the 2018 elections. That will likely give Democrats a boost in a state with several districts the court ruled were drawn to favor Republicans.
Statehouses: Bitter fights over social issues are gaining little momentum in state capitals this year, the New York Times reported, as lawmakers have taken little interest in spending an election year in controversial battles.
Israel: Vice President Mike Pence vowed that the U.S. will open its embassy in Jerusalem next year.
Iran: Secretary of State Rex Tillerson said in a visit to the United Kingdom on Monday that the U.S. and Europe are exploring ways to "fix" Trump's concerns with the Iran nuclear deal.
Today's MicBite:
An important dispatch from Mic's Jack Smith IV on how a proposed voting law in New Jersey could revolutionize the push to allow 6.1 million incarcerated or convicted people to vote. Click or tap below to watch his video.