If new bonuses are because of tax cuts, why aren't new layoffs and bank fees?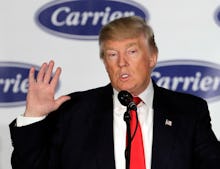 President Donald Trump has, since the election, been outspoken about his perceived economic wins: touting "job-saving" deals with manufacturers like Carrier; tweeting about stock market highs; and taking credit for raises and cash bonuses he attributes to his party's tax code overhaul.
The executives of many companies have helped uphold this narrative in press releases, which have in turn been reported at face value by media organizations. Earlier this year, while announcing a series of $1,000 cash bonuses at Bank of America, CEO Brian Moynihan explicitly credited tax reform as the reason for the raises: "Beginning in 2018, we will see benefits from the tax reform, too, in the form of lower corporate tax rates," he wrote in the memo originally reported by CNBC. "In the spirit of shared success, we intend to pass some of those benefits along immediately."
Yet, not everyone looks to share in those "benefits," as it turns out: Starting this month, Bank of America customers who previously got free checking through the company's now-defunct eBanking program have been switched over to the bank's standard "Core Checking" account, which charges a $12 a month fee to anyone whose balance falls below $1,500 or fails to make direct deposits of at least $250 a month.
The move was sharply criticized for targeting likely low-income customers. As the Wall Street Journal's Nate Becker noted on Twitter, the new fee will amount to about 1% of many minimum wage earners' pre-tax income.
To be fair, operating checking accounts does create costs for the bank, as the WSJ noted in its story. But it's also unclear whether offering free checking services to some of its low-income customers has undermined Bank of America's profitability: It posted an $18 billion profit last year, according to the Charlotte Observer, its highest since 2006.
Bank of America's is only the latest corporate announcement that shows not everyone is winning in the wake of tax cuts. The same day it touted its tax cut-enabled raises, Walmart quietly announced a series of store closures; Carrier in January announced a new batch of layoffs at the precise factory where Trump pledged to save jobs roughly one year before. And Huggies' manufacturer Kimberly Clark just announced it would lay off as many as 5,500 workers, citing declining birth rates, among other factors.
Now, the president can hardly be blamed if families seem to be having fewer babies. But taken together, the corporate moves raise the question of whether Trump is effectively taking credit for economic wins in the wake of tax reform, without owning any losses — a point MSNBC's Chris Hayes made on Twitter.
How much credit does a president deserve for the economy?
It's not just Trump himself: Outside observers also argue, "No matter what anyone thinks about Trump, he clearly deserves credit for much of the economic gains we're seeing today," as an editorial in Investor's Business Daily contended, citing Fiat Chrysler's worker bonuses and a $1 billion revamp of a Michigan assembly plant as examples. "None of this would be happening if Hillary Clinton — who promised to raise taxes and impose still more regulations — were president."
And corporate CEOs have also been quick to tout the wisdom of the Trump tax reform plan at this year's World Economic Forum in Davos, Switzerland, saying that the cuts are likely to spur new deals.
But even those economists who are currently supportive of the president's policies, like the Heritage Foundation's Stephen Moore, have been more cautious about drawing quick conclusions about economic gains. In a July 2017 interview with Fortune, Moore said that despite Trump taking early credit, it was then "premature" to label the president's job creation policies a success, saying, "It takes a while for policies to translate into jobs."
Moreover, as economists who served under President Barack Obama have pointed out, job creation under Trump is on par with the record of his predecessor; and some argue we are still living in the Obama economy.
At the very least, presidential decision making is only one of millions of factors — from the weather to international conflicts — that affect whether the economy gets stronger or weaker in a given year. A degree of skepticism about what, or who, should be credited or blamed is healthy.
And more specifically, despite what corporate public relations departments would like you to believe, it is not necessarily clear that gains from tax cuts are eventually passed to employees through higher wages. The cost of labor — how much companies pay employees for work without fearing they will leave for a better offer — doesn't automatically rise based on the size of a business's tax cut. In fact, the opposite may be true, and workers in aggregate could be hurt by a cut, a point made by the former Treasury Secretary Lawrence Summers.
How to handle obnoxious bank fees and layoffs, if they affect you personally
If the latest news of higher bank charges and corporate layoffs hits a little too close to home, remember that you have options.
Fed up with surprise bank fees? It may be time to shop for a bank that doesn't charge them. Check out Mic's guide to finding a better bank, plus tips on which bank is best if you're broke or are ready to switch to an online bank.
Assuming you like your bank, it's still important to stay vigilant. Open every piece of mail your bank sends along: It is standard operating procedure for financial institutions to inform you of any fee changes to your account. If you get enough notice, you may be able to move money around to avoid the minimum balance charge before it takes effect.
If you miss a notice, you can also call your financial institution and ask for any fee to be waived. But you can also take matters into your own hands by monitoring your account more closely using your bank's app, so you can spot charges as soon as they happen and avoid overdraft fees.
As for the far more serious matter of layoffs?
While you may feel tempted to mope around the house and feel sorry for yourself after losing a job, it's actually time to create an action plan and get busy. That means updating your resume (check out these ideas for how to give it a fresher look) and starting to network like crazy.
Don't be shy about telling everyone you know that you're looking for a new gig. Friends and former coworkers can be some of your best resources, and a personal referral will always help you get noticed. That said, you should also take a look at job sites like Glassdoor, ­­Indeed and Monster, along with the jobs section of LinkedIn to find out about new positions. Just remember to always include a cover letter to persona­lize your application.
Aside from the job hunt, you'll also need to get the rest of your financial house in order. While your company, under COBRA, must offer the same health insurance after you leave that you had while you were employed, you will be responsible for the full monthly premium if you choose it.­­ Before you sign up, shop around for better deals on the health exchanges.
If your only income is unemployment, you will likely qualify for subsidized insurance. You'll also want to start the unemployment process, take a closer look at your budget in order to lower your monthly costs and consider rolling your 401(k) into an IRA.
Above all else, try to stay positive and focus on the upsides: This might be the opportunity you've been looking for to get a fresh career start.
Sign up for the Payoff — your weekly crash course on how to live your best financial life.