Trump declares GOP winner after government shutdown — but the fight isn't over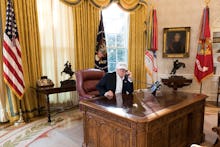 President Donald Trump and congressional Republicans are taking a victory lap after the government shutdown ended Monday, fashioning themselves the "winner" after they refused to include in the temporary spending measure a vote on legislation to protect the roughly 800,000 recipients of the Deferred Action for Childhood Arrivals program.
Trump declared the reopening of the government a "big win for Republicans," saying Democrats "cave[d]" to Republican demands.
Meanwhile, liberal activists are fuming at Senate Minority Leader Chuck Schumer (D-N.Y.), branding him a "sellout" because he brokered a deal with Senate Majority Leader Mitch McConnell (R-Ky.) to provide the votes to end the shutdown in exchange for a verbal promise that DACA legislation will eventually get a vote.
But any gloating from Republicans may be premature.
Polling results regarding the shutdown are not good for the GOP. Forty-eight percent of voters said Trump and the GOP-controlled Congress are to blame for the shutdown, according to a Politico/Morning Consult poll conducted over the weekend.
And the fight for immigration reform isn't over, as Congress could be back in this very position in three short weeks. And in round two, Republicans have a lot more to lose.
On the Senate floor Monday, McConnell promised a vote on DACA legislation by Feb. 8. Given that Republicans control the Senate, he's the decider on whether legislation will come to a vote.
"Should the issues not be resolved by the time the funding bill before us expires on Feb. 8, so long as the government remains open, it would be my intention to take up legislation here in the Senate that would address DACA, border security and related issues," McConnell said.
If McConnell reneges on that promise to allow fair debate and a vote on a DACA replacement, Democrats could make a strong case that the GOP is to blame for another shutdown.
And if a DACA compromise bill passes the Senate, which is possible given the bipartisan compromise deal that's already been released, the onus to pass a DACA fix would fall on the Republican-controlled House.
If the House then fails to pass a DACA bill — also a possibility, given the loud and raucous anti-immigration faction of the GOP — then Speaker Paul Ryan (R-Wis.) and his GOP colleagues would likely shoulder the blame for a shutdown.
Trump also has a lot to lose in round two of the fight. The president has fashioned himself a dealmaker who's promised a "bill of love" to address DACA recipients, undocumented immigrants who came to the country as children but who have been allowed to stay in the U.S. for work and school.
Given that Trump has consistently changed his position on the kind of immigration bill he'd accept, he would likely be blamed if he scuttles a DACA compromise handed to him from Capitol Hill.
Ultimately, it's Trump who decided to end DACA, In September, the president set a March 5 deadline for Congress to come up with a permanent fix for the program — which has 87% support from voters, according to a recent CBS News poll. If March 5 comes and goes without a deal, and DACA recipients begin to either lose their legal protections or start getting deported, Trump will be blamed for ending a popular program.
Trump and the GOP might claim victory after round one, but they shouldn't expect that same narrative to hold in a few weeks.