Kendrick Sampson: "People in high office are putting polluters and profit ahead of people."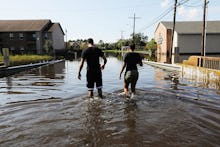 More than three months have passed since Hurricane Harvey devastated my hometown of Houston, turning upside down the lives of thousands of people along the Gulf of Mexico. Rebuilding lives and communities will take time and resources. Thankfully, there are many on-the-ground organizations, working with people directly impacted by the storms, that are still accepting donations.
From Puerto Rico to Rosharon, Texas, many people who continue to live in underserved communities disproportionately impacted by pollution and other environmental challenges are experiencing environmental injustice as they struggle to recover from Harvey and the storms that followed.
Sadly, the very real problem of environmental injustice is not limited to coastal communities. In Flint, Michigan, two years after news broke that thousands of residents were drinking water with dangerous levels of lead, entire neighborhoods still rely on bottled water for drinking and bathing. While efforts are underway to replace the old and lead-lined pipes, one has to wonder whether the response would be different if the communities affected were wealthy and mostly white.
Environmental injustice can be tied to economic status — 40% of Flint's population live below the poverty line — but all too often, environmental justice is also tied to the color of peoples' skin. The majority of Flint's population is black.
The Inglewood Oil Field is another example of environmental injustice. Located in Los Angeles, it is one of the largest urban oil fields in the U.S. Residents living nearby have reported asthma, cancer, infertility and other health problems, especially in women and children — the oil field is in close proximity to elementary schools. This oilfield is smack dab in the middle of the largest historically affluent black community in the nation. This is not a poor community, but it is predominantly black.
Standing up against environmental racism, especially for those whose voices are consistently unheard or ignored, is a cause that is very dear to my heart. This is why, in late 2016, I joined the fearless people of the Standing Rock Sioux Tribe who fought so hard to prevent the Dakota Access pipeline from being built underneath their clean water source. Their concerns of potential leaks were proven to have merit just several weeks ago, when the Keystone pipeline just south of Standing Rock spilled 210,000 gallons in South Dakota.
The residents of Bismarck, North Dakota, a predominantly white community, had the same concern and protested the pipeline. The company moved it south, to the little bit of land left for the Lakota Sioux Tribe. Those who engaged in peaceful protest were arrested, brutalized, shot with rubber bullets, maced and sprayed with water cannons in freezing weather by those sworn to protect them. The residents living on this land rightfully fear that the company and criminal justice system are putting profits over their future — and these actions make it harder for them to protest peacefully for clean water and a healthy Earth.
The Trump administration has made it abundantly clear that it does not consider protecting the most vulnerable from the impacts of climate change and pollution a top priority. The evidence? In its proposed budget, the Trump administration eliminates the Environmental Protection Agency's environmental justice office, which since 1994 has provided more than $24 million in grants to support over 1,400 programs in communities disproportionately harmed by environmental hazards.
Rather than listening to experts and those who are feeling the impacts of climate change and pollution now, EPA administrator Scott Pruitt and other administration officials beholden to corporate polluters have chosen to ignore science and refuse to acknowledge that the most vulnerable will suffer the most from inaction. Quite simply, there are people in high office putting polluters and profit ahead of people.
We all value clean air and clean water. This is a message that we must repeat — especially on behalf of the most vulnerable people, who may not have a seat at the table or who fight for a seat at the table only to be ignored. While the stories of the hurricanes have largely receded from the headlines, there's still much work that needs to be done.
Each of us can make a difference. I encourage you to join Defend Our Future, a nonpartisan organization that values environmental justice as a key tenet in its efforts to empower young people to become stronger advocates for people and our planet through civic engagement. We must let Congress know that we expect them to side with the people and not the polluters.
We must act now to defend our future.
Kendrick Sampson is an actor and activist. He is currently recurring on "The Flash."