SZA teams up with 6 emerging artists to conquer stereotypes on new song "Can't Judge a Book"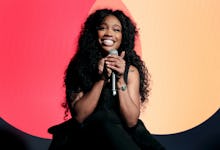 Grammy-nominated R&B singer SZA and six emerging artists have injected new life into a rock and roll classic, Willie Dixon's "You Can't Judge a Book by the Cover," for a campaign about pushing past stereotypes and promoting representation for people of color and artists with disabilities in the music industry.
Each musician brings their own style to the track, resulting in a rock, hip-hop, country and pop music mashup. The music video for the collaboration, a product of Mastercard's Start Something Priceless campaign, premiered at the Mastercard House Tuesday in New York City during Grammy Week.
SZA, who is nominated for five awards, including best new artist, made an appearance at the pop-up venue. She spoke about her year leading up to the Grammys and what it was like working on the "Can't Judge a Book" campaign.
After finding out about her nominations in November, SZA tweeted that she never thought the accomplishment was possible for her.
She also addressed how she overcame judgement during a fireside chat with journalist Brian Hernandez.
"I definitely feel like there have been so many opportunities for people to decide who I am, or what I mean, and how they perceive me," SZA explained. "Like, there are a lot of people who pay attention to my fashion sense now as if it's changed, but when I was 200 pounds, I dressed the exact same...It's no different, but it just looks different. Perception. That's why you just can't get lost in other people's [opinions] because they don't know what they're talking about and they never do."
The Ctrl singer-songwriter was also joined by her six collaborators, pop singer Victoria Canal; William Prince, a Canadian aboriginal folk artist; Noé Socha, a folk and blues musician, who is also blind; Radkey, a rock band trio of black brothers from Missouri; The Tracks, a Chicano indie rock band from Los Angeles; and Ruby Ibarra, a Filipino-American rapper who was raised in California.
After screening their creation, the panel of artists spoke about their own experiences, especially on representing those who feel invisible and performing often unexpected genres of music.
Prince, who is from the Peguis First Nation, a small community of people of Ojibway and Cree descent in Manitoba, Canada, spoke about inspiring younger generations back home. "They see somebody like me that's come from that same place to go as far as be in New York City for such a campaign with a respected group of people and working with world class artists such as these — it's really a victory."
Ibarra said a fan told her they wished they had someone like her to look up to while they were growing up. She hopes the campaign can reach those kids seeking that inspiration.
"I think it just goes to show how powerful this campaign is," Ibarra said. "How important it is for us to constantly share our stories, for people out there to feel represented. For people like us to know they can be on stage and do exactly what we're doing tonight."
As the conversation came to a close, SZA was asked to give the group of musicians advice, but instead she chose to reaffirm their individuality.
"I've been learning from y'all since the second I met y'all," she said. "Y'all have your own energies, your own strong beautiful identities, your own sounds, your own production. Your own styles. So I don't have shit to tell you. You're amazing in your own right and you'll be fine."