Jeff Sessions orders investigation into missing texts from FBI agents accused of anti-Trump bias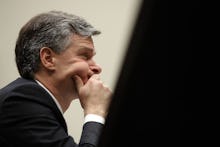 Attorney General Jeff Sessions has ordered a probe into text messages sent between two FBI agents who Republicans have accused of having a bias against President Donald Trump, Reuters reported.
Republicans are up in arms after the FBI says it lost five months' worth of texts between FBI agents Peter Strzok and Lisa Page — both of whom were removed from special counsel Robert Mueller's investigation after it was found they spoke ill of Trump in text messages to each other.
However, Strzok and Page spoke ill of liberal politicians too. Strzok even went as far as expressing hesitation over joining the Mueller investigation in the first place, because he didn't think there was "no big there, there" with the Trump-Russia collusion probe.
Still, Republican lawmakers are latching onto the text messages to accuse the FBI of wrongdoing and discredit the investigation into Trump and his campaign's alleged ties to the Russians.
"We need to get to the bottom of it, and find out what exactly happened," Rep. Jim Jordan (R-Ohio) said Monday to Fox News of the lost text messages.
Meanwhile, Sen. Richard Burr (R-N.C.), who is leading the Senate's Russia investigation as chair of the Senate Intelligence Committee, threw cold water on the theory that the FBI did anything nefarious regarding the messages. Burr told CNN on Tuesday that the missing messages were caused by a technical problem.
"I'm not going to read anything into it other than it may be a technical glitch at the bureau," Burr told CNN's Manu Raju. "The fact that they have provided the rest of them certainly doesn't show an intent to try to withhold anything."
The lost text messages news came just before the New York Times reported that Mueller's team interviewed Sessions for several hours last week as part of their probe.