After threats to CNN, press freedom groups say Trump's cries of "fake news" endanger journalists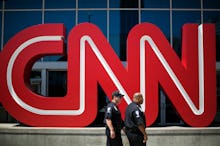 Journalists and press freedom organizations are again calling out President Donald Trump's anti-press rhetoric, the day after an FBI affidavit revealed a Michigan man allegedly used the term "fake news" in phone calls to CNN in which he threatened to kill the network's employees.
Officials arrested Brandon Griesemer earlier in January for allegedly making nearly 22 threatening phone calls to CNN. The criminal complaint was first obtained by the Atlanta CBS affiliate WGCL-TV.
"Fake news," Griesemer allegedly said in a Jan. 9 phone call to CNN's Atlanta offices, according to the Washington Post. "I'm coming to gun you all down."
Griesemer, who was also accused of making threatening phone calls to a Michigan mosque in September, was released on an unsecured $10,000 bond. A man identifying himself as Griesemer's father told the Post that Griesemer "really didn't mean any of it."
Bruce Brown, executive director of the Reporters Committee for Freedom of the Press, said the information released about Griesemer's arrest shows that threats against the press "aren't just rhetorical — they're real" and drew a line to Trump's attacks on the media.
"When the president calls reporters 'the enemy of the people' and entire news outlets 'fake news,' it only fuels the risk of verbal attacks against members of the media becoming physical ones," Brown said in a statement to Mic. "We've already seen one journalist physically attacked — by a member of Congress, no less — and the threat of violence against members of the media simply for doing their jobs goes against our country's values."
In the aftermath of the 2016 election, the term "fake news" has come into national parlance as a disparaging remark Trump and his supporters have levied at CNN and other news organizations with regard to unfavorable coverage of the president's administration. Trump and the GOP also attacked the press in the so-called "Fake News Awards," a listicle posted on the Republican National Committee website that included reporting errors from major news outlets over the past year.
Since announcing his presidential run in 2015, Trump has regularly expressed disdain for the press, calling reporters "disgusting" and "dishonest." He's also threatened to sue news outlets and reporters, warning he would loosen libel laws to make it easier to do so. He once asked former FBI director James Comey to consider jailing journalists who publish classified information; in December, a spreadsheet cataloguing Trump's tweets showed he had tweeted disparaging remarks about the press nearly 1,000 times since June 16, 2015.
In January, lawyers for the president attempted to block publication of Michael Wolff's explosive book Fire and Fury: Inside the Trump White House, which purportedly detailed an inside look at the Trump administration.
The Griesemer incident fits into a larger pattern in which language by Trump and his supporters has been turned around and levied at journalists, particularly in threats and online harassment, according to Alexandra Ellerbeck, the Committee to Protect Journalists' North America program coordinator.
"President Trump didn't coin the term 'fake news' exactly, but he certainly has been the biggest promoter of that term and the one with the largest platform," Ellerbeck said in an interview with Mic on Tuesday. "… We saw that term picked up by the individual threatening CNN; we've seen that term picked up by governors and mayors and sheriffs across the country, which is incredibly concerning; and we've seen that term picked up abroad by authoritarian leaders.
So when the president is using the term 'fake news,' it does have this ripple effect," she continued. "It's pretty clear that the hostile rhetoric exposes reporters to risk."
On Tuesday morning, Trump again used the term "fake news" to describe CNN in a tweet that mischaracterized reporting by CNN reporter Jim Acosta.
"Even Crazy Jim Acosta of Fake News CNN agrees: 'Trump World and WH sources dancing in end zone: Trump wins again ... Schumer and Dems caved ... gambled and lost,'" Trump tweeted. "Thank you for your honesty Jim!"
Trump's use of the term less than 24 hours after Griesemer's arrest was "incredibly concerning," Ellerbeck said, though she added she was not surprised. The language is just part of Trump's continued disregard for press freedom, over which press freedom groups and journalists have regularly voiced concern, she said.
"Anecdotally, we've seen an uptick in reporters calling us or reaching out to us to talk about receiving death threats or rape threats," Ellerbeck said. "When you look at threats against reporters on social media, there has been an uptick in threats."
The White House has not released an official statement responding to the arrest. At the White House press briefing Tuesday, after a reporter asked about Trump's use of "fake news" and whether there was concern over how he was emboldening other world leaders to deny news reports or disparage and jail journalists, national security adviser H.R. McMaster defended Trump's stance on human rights.
Even if the White House did issue a statement addressing the threats against CNN, it would be "too little, too late," Ellerbeck said.
"It would be hard to imagine it being taken in good faith at this point, after he has called the press the enemy of the people, after he has called reporters disgusting," she said. "And we're not holding our breath."
A spokesperson for CNN declined to comment on Trump's latest tweets in which he called the cable channel "fake news." In an earlier statement, the spokesperson said CNN was in touch with law enforcement and had taken security measures in response to Griesemer's threats.
"We take any threats to CNN employees or workplaces around the world extremely seriously," a company spokesperson said Monday in response to the news of Griesemer's arrest. "This one is no exception."