Mueller reportedly preparing to interview Trump about Comey, Flynn firings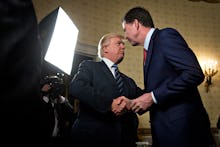 Special counsel Robert Mueller could interview President Donald Trump about the 2017 firings of Michael Flynn and James Comey as soon as next week as part of his Russia probe, according to a new report Tuesday in the Washington Post.
The move, reported the same day it was revealed Mueller's office questioned Comey in 2017, may be a sign the FBI investigation into the Trump campaign's alleged collusion with Russia is reaching its final stage — and could indicate the special counsel is looking at possible obstruction of justice on Trump's part.
According to the Post, which cited two sources familiar with the investigation, Mueller is interested in questioning Trump about his decisions to fire Flynn, his former national security adviser, and Comey, the former FBI director.
Flynn, who pleaded guilty in December to lying to FBI agents about his conversations with the Kremlin, was forced to resign less than a month into Trump's presidency over contacts he had with then-Russian ambassador Sergey Kislyak.
Flynn also said in December that he was cooperating with the Mueller probe and admitted high-ranking transition officials had been aware of his discussions with Kislyak.
Trump raised eyebrows in December when he tweeted that he "had to fire General Flynn because he lied to the vice president and the FBI" — implying he knew the ex-national security adviser lied before he fired Comey in May, which some argued amounted to an admission of obstruction of justice.
The firing of Comey, who had been leading the FBI probe into the Kremlin's interference in the 2016 election, has remained one of the key events in the Trump-Russia saga.
Though the president initially cited Comey's handling of the Hillary Clinton email investigation as the rationale for his axing, he suggested to NBC's Lester Holt in a May interview that the "Russia thing with Trump and Russia" factored into his decision. Comey later testified that Trump pressured him to kill his investigation into Flynn, but would not say if he believed that amounted to obstruction of justice on Trump's part.
News that Mueller is seeking to interview Trump comes as the president and his allies ramp up their attacks on the investigation, which they've described as a politically motivated witch hunt.
Trump has privately told his lawyers he is "not worried" about meeting with Mueller, according to the Post, because has "has done nothing wrong."
But there are a number of legal landmines the president could step in during such an interview, and his attorneys would like Trump to be able to answer at least some of Mueller's questions in writing. In a face-to-face interview, Trump's famous looseness with the facts could leave him legally vulnerable.
The special counsel's office appears to have interviewed or scheduled interviews with most of the key figures on the Trump campaign, including Attorney General Jeff Sessions — who met with Mueller's office last week, according to reports Tuesday.
Sessions recused himself from matters relating to the Russia investigation in early 2017, much to the chagrin of Trump, who is reportedly upset his attorney general has been unable to protect him from the probes.
According to the Post, Mueller is planning to seek an interview with Trump in a matter of weeks. Trump has not said publicly whether he would grant an interview with the special counsel.
"Certainly I'll see what happens," he told reporters at a press conference Jan. 10.