GOP-controlled Alabama legislature moves to end Senate special elections after Doug Jones' win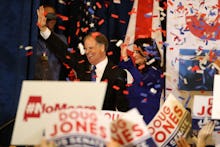 The Republican-controlled Alabama state House voted on Tuesday to end special elections for vacant U.S. Senate seats, AL.com reported.
The move comes the month after Democrat Doug Jones defeated Republican Roy Moore in a special election in Alabama, flipping control of the seat previously held by now-Attorney General Jeff Sessions.
The bill, which passed in the House 67-31, must still pass the Alabama state Senate. If it passes, the Alabama governor would then have to appoint someone to fill any future vacancies in the U.S. Senate, with voters getting to weigh in at the next regularly scheduled election in the state — even if that next election is more than a year away.
Initially, now-former Alabama Gov. Robert Bentley had scheduled the election to replace Sessions to coincide with the 2018 midterm elections. It was after Bentley resigned in scandal that his replacement, Republican Gov. Kay Ivey, moved up the election to Dec. 12. Jones ultimately won that tight race, despite the state's heavy GOP bend. Moore faced a scandal during his campaign about his alleged sexual harassment of teenage girls.
Republicans who support eliminating special elections for U.S. Senate frame the change as a cost-saving move. Republican state Rep. Steve Clouse told AL.com that the Jones-Moore special election cost the state $11 million.
The majority of states across the country don't have special elections to fill vacancies in the U.S. Senate, with governors appointing replacements who serve until the next regularly scheduled election, according to the National Conference of State Legislatures. Just 14 states hold special elections to fill vacancies, according to the NCSL.
However, some are pointing out the curious timing of Alabama's decision to change special election rules after Jones' surprise win. Meet the Press moderator Chuck Todd pointed out that the change could also come back to haunt Alabama Republicans — who are pushing for the rule change.
"Some day, there will be a Senate vacancy in AL with a [Democrat] in the Gov. chair and the state GOP will remember to kick itself for being short sighted back in 2018 and realizing the law of unintended consequences wins again," Todd tweeted.