With their lines in the sand drawn, Republicans and Democrats barrel toward another shutdown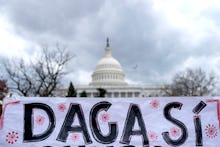 Welcome to Mic's daily read on Donald Trump's America. Want to receive this as a daily email in your inbox? Subscribe here.
Wednesday's dispatch: The terms are set for another shutdown
After two days of intense criticism, Senate Minority Leader Chuck Schumer (D-N.Y.) announced Tuesday he will not support funding President Donald Trump's border wall as part of an immigration deal.
Schumer's move appears to be a political necessity, as outrage continues nationwide and in front of his Brooklyn, New York City, apartment over the Democratic deal with Republicans to fund the government without protecting recipients of the Deferred Action for Childhood Arrivals program. House Democrats and liberal activists continued to hammer Schumer and the majority of Senate Democrats who voted with the GOP on Monday to reopen the government.
Schumer originally offered Trump funding for the border wall on Friday, in a bid to avoid a shutdown. When Trump and Republicans said the Democrats were not offering enough, it created an impasse that shut down the government for three days.
Now, with Schumer saying Senate Democrats — at least nine of whom must vote with the GOP on Feb. 8 to continue funding the government — will not back a border wall, the terms of the next showdown are clear. Trump has said wall funding must be included in any immigration deal.
A bipartisan group of senators are negotiating an immigration bill that would increase border security in exchange for protecting DACA recipients. But those talks have made little headway, raising fears senators will not produce a bill to vote on by the Feb. 8 deadline to fund the government.
Even if a bill is produced, the deal will likely anger many House Democrats, who want to see nearly 800,000 undocumented immigrants protected from deportation without conditions. It will also anger conservative Republicans across Capitol Hill, who are wary of what they consider "amnesty" to immigrants who they believe are in the United States illegally. And there's no guarantee Trump or House GOP leaders will even consider a bipartisan Senate bill.
In fact, based on recent statements, moving any immigration deal out of the Senate may be unlikely. And we could be back to a shutdown in a little more than two weeks.
Of note: Nearly half of Americans blamed Trump or congressional Republicans — not Democrats — for the shutdown, a new Politico/Morning Consult poll shows.
Today's question: Do you see a way for Democrats and Republicans to reach a deal?
Please email us at trumpsamerica@mic.com with your thoughts.
Wednesday in Trump's America:
Russia update: Special counsel Robert Mueller wants to question Trump about the departures of former national security adviser Michael Flynn and former FBI Director James Comey — a sign Mueller's investigation has moved toward looking into potential obstruction of justice.
Attorney General Jeff Sessions was questioned for several hours by Mueller's team last week, the New York Times reported. He's the first member of Trump's Cabinet to be questioned in the Mueller inquiry.
NBC News reported Flynn met with members of the FBI on Jan. 24, 2017 — exactly one year ago — with no attorney present, and with no warning given to the White House.
Former Vice President Joe Biden said Senate Majority Leader Mitch McConnell would not sign a bipartisan statement that condemned Russia for its interference in the 2016 election prior to ballots being cast. That kept Barack Obama from condemning the Russians, Biden said.
The GOP inquiry: After pressure from congressional Republicans, Sessions pledged Tuesday to investigate the disappearance of six months of text messages between two FBI officials under investigation for their reportedly biased views of politicians.
School shooting: The United States has seen 11 school shootings in 2018. Two students were killed and 18 injured in a school shooting in Kentucky on Tuesday.
Historic baby: Sen. Tammy Duckworth (D-Ill.) will be the first senator to give birth while holding office.
New vs. old: The Intercept explores how Democratic groups are trying to edge out newcomers in House races by backing establishment candidates, some of whom have previously lost.
Harassment: Rep. Pat Meehan (R-Pa.) is denying any sexual harassment of his staff, saying the aide who he reportedly settled a harassment claim using taxpayer funds was his "soul mate."
Alabama: The Alabama House passed a bill on Tuesday that would end special elections for vacancies to the U.S. Senate. This comes less than two months after Sen. Doug Jones (D-Ala.) became the first Democrat to hold an Alabama Senate seat since the 1990s.
"Fake news": Press freedom groups are again decrying Trump's repeated attacks on journalists, saying it is spurring threats of violence against news organizations.
Cabinet at work: Trump's Cabinet has been given "almost total freedom to do what they want," Politico reported. "Since the start of the year, the Centers for Medicare and Medicaid Services has quietly opened the door to sharply limiting Medicaid; DHS has revoked a special immigration status for Salvadorans; and the Department of Interior has moved to open up federal land to offshore drilling."
"Safe injection": Philadelphia will become the second city in the U.S. to allow users of illicit drugs to inject with clean needles under medical supervision. The move is billed as a way to prevent the the use of dirty needles, prevent overdoses and stem the spread of disease.
Today's MicBite:
A top linguistic expert explains how President Donald Trump uses the modern media to spread his message through speeches, tweets and responses to questions. Click or tap below to watch the video.