Casual racism rocks Paris Couture Week as designer faces backlash over racial slur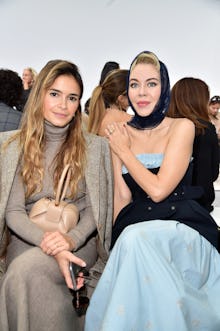 In the latest scandal rocking the fashion world, a major fashion designer, who has been worn by the likes of Lady Gaga and Rihanna, and a street style star, who's rubbed elbows with the likes of Kim Kardashian West, are being slammed by the fashion industry for using a racial slur. (Sound familiar? It happened just two months ago at Victoria's Secret's runway show.)
This instance started with Future Tech Lab Founder/CEO Miroslava Duma posting a picture on her Instagram story of the flowers and handwritten note her friend, designer Ulyana Sergeenko — who's known for '40s-inspired silhouettes — had sent her while in Paris. "To my niggas in Paris," it read.
Quickly, people on Instagram noticed the note, its language coming from a white woman to a white woman, and reposted it with messages of their own to Sergeenko and anyone else in fashion who thinks that this kind of language is appropriate or even excusable.
"This better not be real," Naomi Campbell, the legendary supermodel, commented via her own Instagram in response.
"Racism and ignorance is real," Bryanboy, a street style icon and hugely popular fashion influencer, wrote on Instagram. "Just sayin'! It's 2018, people! Can't wait for Lena Dunham Apology Generator to write the very sincere apology letter, you know the one that says she's not racist because she knows a black musician!"
Early on Tuesday, which ironically was the day Sergeenko would present her latest collection at Paris Couture Week, she did indeed post an apology letter of her own on Instagram.
"I woke up this morning with my phone full of insulting messages," Sergeenko wrote, before trying to excuse her behavior because of her nationality and her affection for the Jay Z and Kanye West song "Niggas in Paris."
"I was born in a small town in East Kazakhstan, my daughter is half Armenian, I have never divided people on white or black," she wrote. "Kanye West is one of my favorite musicians, and ["Niggas in Paris"] is one of my most favorite songs. And yes, we call each other the n-word sometimes when we want to believe that we are just as cool as these guys who sing it."
"Yes, we call each other the n-word sometimes when we want to believe that we are just as cool as these guys who sing it."
"I am deeply sorry to everyone whom I might have offended," she continued. "Mira is a dear friend and even the fact that she so naively posted my private card to her on social means that we meant nothing wrong and didn't [realize] the consequences. I have certainly learned my lesson and I am grateful for it. there is enough anger in the world out there, please, can we stop it here?"
The apology immediately did not go over well, especially because Sergeenko both admitted to regularly saying the slur herself, and tried to defend her note and language.
The apology was soon deleted, and in a statement to Garage after her Paris presentation on Tuesday she said simply: "I'm so upset that I spoiled it."
Meanwhile, Duma issued an apology of her own later on Tuesday, writing: "I sincerely apologize for my regrettable Instagram story that went out."
Like Sergeenko, she mentioned that the saying was just in reference to Jay Z and West's song. "The phrase referenced is from a Kanye West and Jay Z song by the same title," she wrote. "The word is utterly offensive, and I regret promoting it and am very sorry. I deeply respect people of all backgrounds and detest racism or discrimination of any kind."
And while that apology still remains on her page, the internet has been quick to find offensive comments from Duma's past.
Late Tuesday, Bryanboy posted a video showing Duma making transphobic and discriminatory remarks at a conference.
After being asked about Boy wearing women's clothing, and models like Andreja Pejic, who is transgender, modeling womenswear, Duma says in the video: "Honestly, I dislike that. Because somewhere, on TV or in a magazine, a little boy could see it and that boy wouldn't understand it correctly. Wouldn't react correctly. And I think a certain kind of censorship... and refined culture... is needed here."
She then continues to misgender Pejic in the video, telling the room that she respects her readers too much to show Boy or Pejic.
In light of that video, stylist Marc Goehring posted a picture on Wednesday morning of a T-shirt printed with a picture of Duma wearing a hoodie that reads: "Hi my name is Miroslava Duma I am a racist I am a homophobe I am a transphobe."
The Tot, the lifestyle blog that Duma states she's a co-founder of on her Instagram, has also removed her from its board, with the site's founder writing on Instagram: "Cultural reference or not, racism in any form is unacceptable, regardless of whether it's accidental or unintentional. Words are powerful and we know those words hurt. Effective immediately, we have removed Miroslava Duma from the board of our company."
On Wednesday afternoon, Duma finally responded to the video Boy posted, writing a lengthy note on Instagram.
"First things first: I am deeply ashamed by the comments I made in 2012," she wrote. "The person I was six years ago is not who I am today. In the intervening years, I have committed myself to a journey of personal growth, where ignorance has been replaced by acceptance, and discrimination by inclusion."
Finally apologizing in her post, she wrote: "I'd like to formally apologize to an individuals or communities that I have offended. Similarly, I'd like to extend this apology to the professional organizations I am affiliated with. The comments I made are in no way representative of those organizations or their teams."
Curiously, Duma left out any mention of the two individuals targeted in the video: Boy and Pejic.
On Friday, Sergeenko offered yet another apology on Instagram, which has not yet been deleted, for both her note and first apology.
"I am terribly ashamed of not only what I wrote, but my disgraceful initial attempt at an apology which was rushed, self-centered and could understandably seem insincere," she wrote. "After much reflection I now fully understand that the use of that word carries such negative connotation and represents a historical injustice. It should never, ever be used in any circumstance no matter... how it was intended."
While controversies and subsequent apologies run rampant in the fashion world, this is a scandal that continues to have major consequences for both parties involved.
Jan. 26, 2018, 1:29 p.m.: This post has been updated to include Sergeenko's apology.