While you weren't looking: 5 stories from the Trump administration that aren't about firing Mueller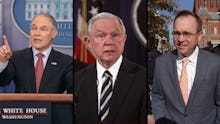 This week's news was dominated by the revelation that President Donald Trump in June attempted to fire special counsel Robert Mueller, who is leading the investigation into alleged collusion between Russia and the Trump campaign.
But even as the news continued to focus on Mueller's potential case against Trump, Cabinet officials are changing U.S. policies at a rapid clip.
Here are five stories from the Trump administration you might have missed this week.
EPA may go after California's fuel emission standards
The state of California currently leads the nation in curbing fuel emissions to fight man-made climate change.
But now the Trump administration might want to put an end to that. The Environmental Protection Agency has begun pushing for a new national set of fuel emission standards that could undercut California's environmental protection laws.
"From a good, solid national and public policy standpoint, the very best outcome for all of us to achieve is one national program," Bill Wehrum, the EPA's head of air and radiation policy, said at the Washington Auto Show in Washington, D.C., on Thursday.
California's law is made possible through a waiver obtained under the Obama administration that allows the state to set its own fuel emission standards. The EPA has yet to specify whether it will do away with that waiver, but said it will make a decision on federal standards by April 1.
CFPB asks companies to complain about it
Mick Mulvaney, acting director of the Consumer Financial Protection Bureau, would like more businesses to complain about the agency he runs. Specifically, Mulvaney is soliciting complaints about how the CFPB subpoenas companies suspected of breaking the law.
In a request for comment published Wednesday, Mulvaney officially opened the door for companies to issue public questions, comments or complaints about the ways the watchdog agency holds them accountable.
Since taking office, Mulvaney has come under fire from consumer advocates and progressives for attempting to hobble the CFPB from the inside. Just last week, Mulvaney ended a CFPB lawsuit against a South Carolina payday lender that had contributed to a previous congressional campaign.
But Mulvaney has seemingly made it clear that a company doesn't have to contribute to his campaign to get a say in how the CFPB does its job.
EPA cuts regulatory standards for air pollution
Carbon pollution wasn't the only thing the EPA decided to loosen up on this week. On Thursday, the EPA also lowered important compliance standards for air pollution from factories and power plants.
The agency did away with a rule known as the "once in, always in" policy, which forced "major" air polluters who had been targeted by the agency to be subject to regulatory oversight for as long as they continued to operate.
John Walke, clean air director at the Natural Resources Defense Council, said in a statement the move would lead to "the greatest increase in hazardous air pollutants in our nation's history."
24-year-old steps down from high-ranking drug policy position
Amid a national opioid crisis, the Trump administration put a 24-year-old man in a senior position at the White House Office of National Drug Control Policy. Now that 24-year-old is stepping down amid growing controversy over his work history.
May 2016 college graduate Taylor Weyeneth was first named a White House liaison to the drug office before being promoted to deputy chief of staff when he was 23. But he's falling just as quickly as he once rose.
The White House announced Wednesday that Weyeneth would be stepping down after the Washington Post reported on several issues with his previous work history, including his fabricating about having received a master's degree from Fordham University and misstating details of his employment at a New York law firm where he was fired for not showing up.
Jeff Sessions threatens 23 sanctuary cities with subpoenas
The Justice Department is threatening to subpoena 23 sanctuary cities if they don't turn over documents showing their levels of cooperation with federal immigration authorities, according to USA Today.
Cities around the country have passed sanctuary laws and ordinances that restrict or circumscribe the extent to which local law enforcement can share information about undocumented immigrants with federal immigration officials.
Sessions has previously vowed to crack down on those laws, and his subpoena threat appears to be an attempt to make good on that promise.
Sanctuary city mayors, for their part, remained defiant in the face of Sessions' threats, vowing to resist the order and protesting by not attending a previously scheduled infrastructure event at the White House.
Now Sessions must decide his next move as lawmakers continue high-stakes negotiations over U.S. immigration policy following the recent government shutdown.