Meet the women who painstakingly track every outfit Meghan Markle wears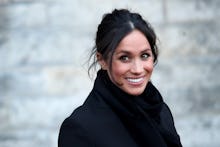 Before it was even 2018, it was decided: This is Meghan Markle's 2018, and now we're all forced to live in it.
On a daily basis, everyone gets an update on Markle: how she and Prince Harry met, what their wedding cake might look like, what her wedding dress might look like. Then there are the nearly constant new pictures of her — whether they're official portraits or just shots of her out and about with her fiancé.
For the women who run Meghan's Mirror, the blog and Twitter account that painstakingly chronicles and catalogs every single item — rings, bags, jewelry, shoes, dresses and so on — Markle wears, this has been, as described by Meghan's Mirror co-founder Amanda Dishaw, an "adrenaline rush."
"I didn't think there would be so many people interested in this," Dishaw said in an interview. "I think people immediately think our readers are women who have nothing to do but look at clothes on the internet. But in reality, we have psychologists, doctors, lawyers, teachers. We have professional women who are just interested in doing this as a hobby."
Dishaw previously ran a Kate Middleton fashion blog, What Would Kate Do, which started in 2012 when Dishaw grew bored during maternity leave and used her time off to identify everything Middleton wore in public. Early in the blog's life, a woman named Christine Ross, who lives in the Washington, D.C., area, contacted Dishaw about wanting to help. They got along, they did good work and have been working together ever since.
With hundreds of thousands of miles between them, Dishaw and Ross have never met in person over the past six-ish years. Instead, they use FaceTime and talk frequently enough that Dishaw now believes she talks to Ross more than she does her biological sister.
It was one of those talks that led to the two launching their second blog together — Meghan's Mirror — in the summer of 2016. They recognized Markle from her time as an actress, heard the rumors she was Harry's new girlfriend and knew What Would Kate Do readers were already interested in what she was wearing.
"I had watched Suits for years, loved her lifestyle blog and was really interested in how she was getting thrust into the spotlight in this way," Dishaw said. "We were looking at her style and we got a large amount of inquires on our Kate blog about what Meghan was wearing. For some reason [we] got a really good feeling about their relationship, so we started the blog."
Identifying each and every part of Markle's outfits is, as you can imagine, a herculean task, much like identifying everything Melania Trump wears has been. On Meghan's Mirror, Markle's fashion choices are broken down into "airport style," "street style," "magazine style," "Suits style," "yoga style" and so on. Every single time Markle makes a public appearance, Dishaw and Ross are on it and their community is with them.
Within minutes of Markle stepping out in Wales on Thursday, Dishaw, Ross, their more than 37,000 Twitter followers and their millions — according to Dishaw — of blog readers were plugged in, scouring the internet to identify each part of Markle's outfit.
Within minutes, her coat (Stella McCartney), bag (DeMellier), shoes (Tabitha Simmons) and the blazer underneath (Theyskens' Theory) were all accounted for.
Ross knows Markle's style so well, she predicted she would carry that bag back in December and bought it for herself in anticipation.
Yeah, these women — and their followers — are good.
In addition to parsing through predictions on Twitter, Dishaw, Ross and the Meghan's Mirror staff — which is close to 20 people — work with a celebrity stylist who is an expert in Markle's favorite brands, form relationships with brands Markle is known to love and pay attention to Kensington Palace's operational notes, which often break down what Markle is wearing when she's out for official appearances.
And it's not just Markle's current outfits that Meghan's Mirror works to inventory. The blog identified the clothes she wore at an airport in 2015, for example, and in a random photo of her in Malta that same year. At this point, If there's a picture of Markle on the internet, there's a good chance the blog has worked to identify what she's wearing in that picture — from the jewelry all the way down to the belt.
What's so enchanting, really, about obsessively classifying everything Markle has ever worn? For Dishaw, the intrigue in tracking Markle's sartorial choices is partly because her style is miraculously relatable, even if she's about to become royalty.
"I think what a lot of people have been drawn to is that she has a very relatable style, especially versus Kate [Middleton]," Dishaw said. "Even taking a look at the royal engagement she completed at the radio station. She wore black pants and a Marks & Spencer jumper, and that's something that almost everyone can see themselves wearing. You look at pictures of her stepping out of a trailer after a long day of filming and she's wearing jeans and a parka. I have that outfit!"
As Mic has already noted, this relatability and affection for little-known designers and affordable brands is similar to that of former first lady Michelle Obama. Also like Obama, Dishaw believes there's a message Markle is sending with the clothes she wears, whether she knows it or not.
"The biggest message she's sending is that she's staying true to who she is," Dishaw said. "Part of what I think Harry fell in love with — and [what] we fell in love with, from a style perspective — is that she's always confident in what she's wearing. She's staying true to herself and she's willing to blaze her own path as a member of the royal family. It's not traditionally been that women wear trousers in royal engagements. I think she's sending a message that she's excited to be a part of this family, but she's not gonna stop being Meghan."
With a wedding in May millions of people are already anticipating, Dishaw has opinions on what designer Markle might wear on that day, too.
"I think Stella McCartney is a very good guess," Dishaw said. "I would also love to see Erdem. They're based in London and the designer's Canadian, so it's kind of a nod. Those are my top two guesses, but she may also throw something totally unpredictable at us."
No matter what Markle wears, you can bet Dishaw, Ross and all their followers will be plugged all the way in.