Philadelphia becomes latest city to introduce safe injection sites to combat opioid crisis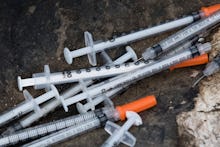 Philadelphia took a controversial step Tuesday in combating its drug crisis, as the city announced it would establish safe injection sites where drug users can inject substances in a supervised medical facility.
The facilities would be the first official sites of their kind in the U.S., according to Philly.com. Though San Francisco, New York and other major cities have reportedly considered establishing sites — and a harm reduction group opened an unofficial secret facility in an undisclosed U.S. location in 2014 — Seattle is the only other city close to taking official action. While Seattle set aside $1.3 million in its budget to open a safe injection site, the Philadelphia proposal calls on private companies, rather than the government, to open and operate the facilities.
"We are facing an epidemic of historic proportions," Thomas Farley, Philadelphia's health commissioner and co-chair of the city's opioid task force, said at a news conference. "The people in the city of Philadelphia, our brothers, our sisters, our parents, our children, are dying. And they don't need to die. And we have an obligation to do everything we can to prevent those people from dying."
Establishing safe injection facilities would be part of a "major, coordinated response" to combat the opioid crisis currently overtaking Philadelphia and the U.S. at large, Philly.com noted. Philadelphia had the highest number of opioid-related deaths of any U.S. city in 2017, and drug overdoses overtook the city's murder rate by a 4-1 margin.
Though countries around the world have established safe injection sites with positive results, bringing the facilities to the U.S. is a controversial move. Pennsylvania House Speaker Mike Turzai criticized Philadelphia's planned facilities as "a stark violation of federal law," echoing a charge leveled by U.S. Attorney General Jeff Sessions in a December statement about safe injection sites in Vermont. Sessions described safe injection sites as "counterproductive and dangerous," predicting that establishing the facilities would "encourage and normalize heroin use."
"The concept, for us, with safe injection sites, is just not a concept we can get behind," Patrick Trainer, a special agent with the Drug Enforcement Administration's Philadelphia field office, told NPR.
What are safe injection sites?
Safe injection sites, according to the Drug Policy Alliance, are "legally sanctioned facilities where people who use intravenous drugs can inject pre-obtained drugs under medical supervision."
Users bring their own drugs to the facility, where staff will provide them with clean needles and other equipment and maintain a close watch in case of overdose. They can also facilitate safe needle usage, according to Vox, by helping users find the right veins so as to prevent infections, abscesses and other potential complications.
The facilities help provide a bridge to drug addiction treatment, with many providing referrals for treatment and counseling services. According to the European Monitoring Center for Drugs and Drug Addiction, many European safe injection sites, also known as drug consumption rooms, provide other services, like access to health care by a primary physician or nurse.
The first supervised drug consumption room was opened in Bern, Switzerland, in June 1986. Thirty-one years later, in June 2017, there were a total of 78 injection sites located in seven European countries, including Denmark, Spain, Norway, Greece and France. Outside of Europe, there are multiple facilities throughout Canada and one in Sydney.
Though illicit drugs are used on their premises, existing safe injection sites operate legally through specific guidance or exemptions established by the government in the countries where they're located, according to a separate EMCDDA report. Germany amended its Narcotics Act in 1999 to allow drug consumption rooms to operate legally, while facilities in Canada operate under an exemption from prosecution under the country's federal drug laws.
In the U.S., states have the authority to legalize safe injection sites, although they would still be subject to federal drug laws and could be shut down under the Controlled Substances Act, a 2008 study in the American Journal of Public Health noted.
Effects of safe injection sites
Though critics are quick to decry safe injection sites as potentially encouraging drug use or not combating the drug crisis, the EMCDDA noted that there is no evidence to suggest that having these facilities available increases drug use or the frequency of injecting drugs. Rather, research from existing facilities shows that drug consumption sites can have a demonstrably positive effect.
The facilities can play a key role in preventing overdose deaths. According to Philly.com, a Toronto facility saved 139 lives within a six-month span in 2017, while a study of a Vancouver facility cited by the British Columbia Center for Excellence in HIV/AIDS revealed it prevented as many as 12 deaths per year over four years — and that no fatal overdoses occurred at the facility. Philadelphia officials have reportedly determined the city's proposed injection sites would save 25 to 75 lives per year.
Drug users taking advantage of safe injection facilities are also more likely to seek treatment. A study published in the journal Addiction and cited by the British Columbia Center found there was a 33% increase in the use of detox services in Vancouver in the year after the city's safe injection facility opened (compared to the year prior). According to the study, drug users who went to the facility were 1.6 times more likely to enroll in methadone treatment and 3.7 times more likely to enroll in other forms of addiction treatment.
And a study of the Australian center cited in the American Journal of Public Health found that by the facility's third year, 38% of users who used the injection facility reported starting treatment, as compared with 21% of users who did not use the facility.
While critics have also decried the potentially negative effect that a safe injection center could have on the area in which it's located, studies have also demonstrated that to not be the case. An evaluation of the Australian facility found that there was no increase in theft, robbery or drug-related loitering after the site opened. Studies of the Vancouver facility, similarly, found no increase in crime, and that public order in the area improved after the facility opened, with "significant decreases" in publicly discarded syringes, injection-related litter and people publicly injecting drugs in the area.
Studies of the "secret" U.S. location published in the American Journal of Preventative Medicine and the International Journal of Drug Policy have yielded similarly positive results, further suggesting the beneficial impact that safe injection sites could have in Philadelphia, Seattle and other U.S. cities.
"One of the things people have said about opening safe injection facilities in the United States is that the U.S. situation is fundamentally different from that of other countries where it's being used successfully. It's an argument that just because it can work in Europe or Australia or Canada doesn't mean that it'll work here," Peter Davidson, a researcher from the University of California San Diego behind the American Journal of Preventative Medicine study, said in an interview with Vox.
"The big takeaway from this research and all the data we have so far is that these kinds of facilities have a similar effect here in the United States as they do elsewhere: They reduce harms associated with drug use and they reduce social nuisance associated with drug use in the same way they do elsewhere," Davidson added.