Alvin Ailey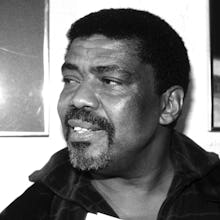 This article is a part of the Black Monuments Project, which imagines a world that celebrates Black heroes in 54 U.S. states and territories.
Alvin Ailey — dancer and choreographer extraordinaire — revolutionized modern dance in the United States. He is best known for establishing the Alvin Ailey American Dance Theater, a troupe that "changed forever the perception of American dance" by foregrounding black talent, according to its website.
The roots of this legendary performer and teacher lie in the small Texas towns of Rogers, where Ailey was born in 1931, and Navasota, where he grew up and where a local Baptist church and neighborhood dance hall left big impressions on the youngster, later appearing in his choreographic work.
Ailey moved to Los Angeles with his mother at the age of 12, the New York Times reported. He made his dancing debut with Lester Horton's company, reputed to be the first integrated dance company in the nation, in 1950, when Ailey was 19. Just three years later, Ailey became the company's director after Horton died.
In March 1958, Ailey presented three works at the 92nd Street Y in New York City. One of those pieces, Blues Suite, is known as his first big success, and the performance marked the beginning of Ailey's company. The troupe gained international acclaim after the U.S. State Department sent Ailey and his dancers to Australia and Southeast Asia on tour.
Ailey choreographed dozens of pieces, emphasizing the importance of ballet standards while also giving his dancers room to break convention.
"What I like is the line and technical range that classical ballet gives to the body," he once said in an interview, according to the book Dancing Revelations: Alvin Ailey's Embodiment of African-American Culture. "But I still want to project to the audience the expressiveness that only modern dance offers, especially for the inner kinds of things."
With Blues Suite, dancers bring Saturday night fever to the stage; Revelations, which premiered in 1960 and is widely celebrated as Ailey's masterpiece, interprets low moments of grief and high points of joy in the black American experience and its connection to religion, blues and gospel.
In 1970, Ailey choreographed a piece for the American Ballet Theater called The River, which was based on music by legendary pianist and composer Duke Ellington. The next year, he dedicated his piece Cry to his mother and to black women everywhere. In it, his muse, Judith Jamison — a legend in her own right — featured prominently.
"The black pieces we do that come from blues, spirituals and gospels are part of what I am," he said in a 1973 interview with Ellen Cohn for the New York Times Magazine, the Times reported. "They are as honest and truthful as we can make them. I'm interested in putting something on stage that will have a very wide appeal without being condescending; that will reach an audience and make it part of the dance; that will get everybody in the theater."
For three seasons, Ailey and his dancers served as the resident company at the Brooklyn Academy of Music. In 1969, he launched a school in Brooklyn called the Alvin Ailey American Dance Center. In 1974, he started the Alvin Ailey Repertoire Ensemble, now called Ailey II, to serve as "a bridge between the school and the professional dance world," according to the school's website.
In 1999, the Alvin Ailey American Dance Center was renamed the Ailey School, which now trains over 3,500 students a year. Since the inception of Ailey's dance company, his dancers have performed for an estimated 25 million people at concert venues spread across the United States, 71 countries and six continents, its website said.
Ailey died in 1989 due to complications related to HIV/AIDS. But his legacy lives on. Jamison, artistic director emerita, and the school's current artistic director Robert Battle have continued to inspire a new generation of multicultural dancers to soar to greater heights on stage.