'Throwback ThursDate': Dating while celibate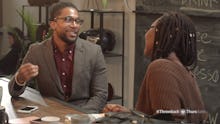 While most millennials wouldn't equate the concept of finding love with celibacy, it's the path 25-year-old Columbia University graduate student Robert Ellis has chosen as he navigates the dating world. In the conversation around sex positivity, which promotes the exploration of healthy consensual sex, there isn't much of a voice from those who voluntarily abstain from the activity.
Ellis, who studies health administration, said that while some people understand his choice, others have responded with concern, asking him questions like, "Why are you doing this? What's wrong?"
"A huge misconception of being celibate is that you're going to judge everyone who is not celibate, when that is definitely not the case," Ellis said. "We want to become celibate because we feel like it enriches our own lives, and we are fully accepting of others not being celibate."
While reasons for celibacy vary for everyone, from involuntary celibacy to self-discovery, Ellis said his choice was rooted in his search for love. He said he believes abstaining from sex helps him build more meaningful relationships and improves the value of conversations. Only once he enters a committed relationship will he break his celibacy; Ellis is a temporary celibate — which some purists may not consider truly "celibate."
"The status quo for men has been one of 'date as many women as possible while you're young and just have fun,' so when you go against that, there's a sense of judgment there," Ellis said. While he admitted to previously focusing on physical things, Ellis' goal is to judge potential romantic partners solely on their character: "Now I'm looking for more 'are you compassionate, are you caring,' and things of that nature."
For the second episode of Throwback ThursDate on Facebook Watch, Ellis goes on a blind date with a surprise guest: his and his date's social media history.