Anne Heche says Harvey Weinstein once exposed himself to her, then fired her for refusing him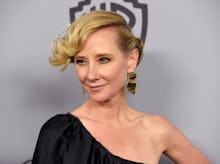 Actress Anne Heche said she has her own allegations against former Hollywood producer Harvey Weinstein, who has faced accusations of sexual assault and misconduct from dozens of women.
During an interview for this week's edition of the podcast Allegedly With Theo Von & Matthew Cole Weiss, Heche answered the hosts' prompt to speak about her "Harvey story," describing an incident in which she says Weinstein, producer and co-founder of Miramax, exposed himself to her and then had her fired as retribution for not complying with his sexual advances.
"I personally did not suck Harvey's dick, although he showed it to me ... I got out of the room before there was any physical contact," Heche said. "The fact is, I was fired from a job that I had been hired for in Miramax. The repercussions of standing up for yourself were as deep and targeted as some of the scars of the women who actually got more physically, unfortunately, involved."
A New York Times report in October on Weinstein's alleged history of abuse, which was reportedly something of an open secret in Hollywood, launched a wave of further accusations against Weinstein himself and a national conversation about sexual assault and harassment in the entertainment industry and beyond.
"There is no bigger monster, and it's great that he's being taken down," Heche said Wednesday. She added that she felt her history of abuse had informed her reaction to the incident with Weinstein.
"If I wasn't sexually abused as a child, I don't know if I would have had the strength to stand up to Harvey — and many others, by the way, it was not just Harvey, and I will say that," she said.
Heche also said Weinstein targeted "isolated, vulnerable" young actresses. "That's why every one of us was 19, or 20, or 21 or 22," she said. "He didn't go after the 40-year-old woman who's coming into his office like Anne Heche looking for a job. He doesn't hit on me [now], he hits on me when I'm 19, 20, 21, 22 — vulnerable, scared, frightened."
Seeming to allude to the apparent flood of allegations of sexual harassment against powerful figures in Hollywood and other industries, as well as initiatives like Time's Up, intended to combat workplace sexual harassment, Heche said she hoped a culture that tolerated sexual predators was changing.
"It doesn't mean it's not going to happen anymore, but it sure as hell got a kick in the pants the last couple of months, and that's a good thing," Heche said.