Donald Trump in Davos: 6 things to watch as the president meets with world leaders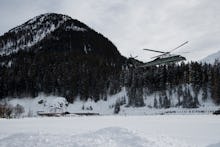 Welcome to Mic's daily read on Donald Trump's America. Want to receive this as a daily email in your inbox? Subscribe here.
Thursday's dispatch: 6 things to watch during Trump's Davos visit
President Donald Trump will spend Thursday meeting with world leaders in Davos, Switzerland, at the annual gathering of the world's political and economic elite. Though this is a group shunned by Trump during his presidential campaign, he will mingle with European heads of state and the leader of the World Economic Forum.
Trump has messaged that his trip will focus on selling global elites on his "America first" strategy, and stressing what he views as the economic wins of his first year: a soaring stock market, a tax reform bill, job growth and a more aggressive posture on trade.
Here's what to watch over the next two days as Trump is in Davos.
1. The message: Watch for what angles Trump and the administration might highlight as they try to project an image of strength and leadership during Trump's time in Davos. Trump's aides have said the president will continue his argument that trade deals between the U.S. and other countries are unfair. Trump may also look to leave Davos touting progress on national security by having conversations with world leaders about U.S. adversaries like Iran and North Korea.
2. The response: Comments from world leaders who interact with Trump will be important to watch. The day before Trump arrived at Davos, French President Emmanuel Macron made a joke at Trump's expense by saying, "Obviously you don't invite anyone skeptical of global warming this year." Watch for signs of how other leaders treat Trump's frequently adversarial approach to working on the world stage.
3. "Shithole" comment fallout: The Davos gathering will be Trump's first interaction with international leaders after he reportedly referred to certain Caribbean and African countries as "shithole" nations. Some African business leaders are boycotting Trump's speech at Davos. And Trump is scheduled to meet with the president of Rwanda, a country that called his "shithole" statement "demeaning." Watch for any actions to protest Trump's comment.
4. Friday speech: Trump will deliver remarks Friday morning to Davos attendees before returning to the United States. This has raised fears he may use the quick turnaround to lambast the global leaders before quickly leaving. Watch headlines out of that event on Friday morning.
5. What Trump chooses to highlight: The economic wins of 2017 have not fallen into the populist bucket of policies on which Trump campaigned. His tax reform legislation was focused on tax cuts for corporations; middle-income Americans may see $30 more per paycheck. A record-breaking stock market has not yet translated to a rebirth of American manufacturing — a core Trump campaign promise. Manufacturers added a net of 25,000 jobs in 2017. Watch for whether Trump highlights policies that have had little direct benefit, so far, to his base of supporters.
6. Progress at home: White House Chief of Staff John Kelly is remaining in Washington to continue work on immigration and spending deals. Trump has historically been more of an impediment than an ally to striking deals with Congress. Watch for whether consensus emerges — particularly among senators — about a deal to protect recipients of the Deferred Action for Childhood Arrivals program and fund the government over the next few days.
Today's question: What message do you want to see Trump project in Switzerland?
Please email us at trumpsamerica@mic.com with your thoughts.
Thursday in Trump's America:
Immigration negotiations: Senate Democrats have dropped their demand that protection from deportation for nearly 800,000 DACA recipients be tied to a government spending bill. That demand is what triggered the government shutdown Saturday.
More than 30 senators are now in talks on a bipartisan immigration deal the Senate can consider before a Feb. 8 deadline to renew government funding. The problem remains that, even if the Senate passes a bill, House Republicans are not likely to support it. The White House said Wednesday it will release an immigration framework next week that should be used as the basis for a deal.
In a twist, Trump said Wednesday that he thinks DACA recipients should have a path to citizenship — reopening a door that will please Democrats and moderate Republicans but anger conservatives. Trump had previously opposed so-called "amnesty" for undocumented immigrants.
The pope: Pope Francis condemned the satanic "snake tactics" of "fake news," calling on journalists and social media users to seek "truth" and quash the spread of politically and socially divisive information.
Trump voters and abortion: The conventional wisdom says Trump supporters are likely motivated by anti-abortion-rights views. But new research finds a deep split in how Trump supporters view abortion — and that a majority would not be motivated to vote against someone who is pro-abortion-rights.
Tax bill: The GOP tax bill passed late last year is projected to give people minimal tax cuts in each paycheck. This is a worry for Republicans who were counting on a political boon from people seeing a major cut to their taxes.
Trump and Russia: Trump said he is willing to speak under oath with special counsel Robert Mueller. He also said challenging the Russia investigation does not amount to obstruction of justice.
Another Trump book: Fox News anchor Howard Kurtz, in a new book about Trump and the media, says a New York Times reporter called Trump "a racist and a fascist" — something Times reporter Jonathan Martin vehemently denies.
Trump cash: Two groups that raised $30 million in support of Trump spent tens of thousands of dollars at Trump International Hotel Washington, D.C., and in payments to Trump loyalists, the New York Times reported
ISIS: A U.S.-led coalition said it killed 150 Islamic State group fighters in Syria. With ISIS on its last leg in its former stronghold, the United States and its allies are trying to determine how to handle ISIS fighters held in camps. Officials want to avoid a repeat of the period after the Iraq War, when suspected terrorists were held for years in U.S. prison camps and radicalized — helping to spawn ISIS.
Planned Parenthood: The group's leader of more than 10 years, Cecile Richards, announced she will step down. Richards has led Planned Parenthood into the Trump era as the group has been the repeated target of defunding attempts by Republicans.
Today's MicBite:
Mic's Jack Smith IV breaks down the rhetoric of star Fox News host Tucker Carlson and the conservative TV host's recent pivot toward questioning diversity and immigration in America. Click or tap below to watch the video.