Trump arrives in Davos amid digs and discontent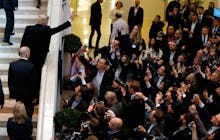 President Donald Trump's arrival at the World Economic Forum in Davos, Switzerland, on Thursday was met with a mixture of optimism from business leaders excited about his move on taxes and frustration from globalists, who have warned against his isolationist tendencies.
Trump — the first sitting American president to visit the forum since Bill Clinton attended in 2000 — is in Switzerland to "tell the world how great America is and is doing," as he put it in a tweet Wednesday ahead of his trip.
"He wants to deliver world leaders a message: A prosperous America benefits the world, and fair economic competition is essential to that prosperity," the White House said in a statement.
But world leaders, including German Chancellor Angela Merkel and French President Emmanuel Macron, spent the day before his arrival cautioning against protectionism and defending global cooperation in speeches that were appeared to be thinly veiled digs at Trump.
"Isolation is not an answer," Merkel said in a speech Wednesday. Macron, who warned of a "major crisis" in globalization, also took Trump to task over his climate policies, which have included withdrawing the U.S. from the Paris climate accord.
"When you arrive here and see the snow, it could be hard to believe in global warming," Macron said. "Obviously you don't invite anyone skeptical about global warming this year," he joked, likely referring to the doubts Trump has expressed about climate change due to cold winter weather.
Predictably, Trump's arrival at the alpine resort drew significant attention, with many attendees looking to catch a glimpse of him.
Business leaders at the forum appeared largely confident in the president. The GOP's win on taxes to close out 2017 has CEOs in Davos excited about the U.S. business environment, and the ouster of contentious nationalist figures like Steve Bannon have given them hope that globalist-friendly forces have won out in his administration.
Anthony Scaramucci, Trump's infamously short-lived communications director, said at the forum that the president is a "globalist" who was in Davos to "disrupt things."
Others, however, remain concerned about Trump's policies and rhetoric, including the recent racist comments he reportedly made about "shithole" countries during an immigration meeting. Some attendees plan to boycott Trump's address Friday, or stage a walkout in the middle of it over those remarks.
"The overt racism of these statements is self-evident, and a stain on an office as august as yours," Bonang Mohale, CEO of Business Leadership South Africa, wrote in an open letter to Trump last week. "Many of us will be boycotting your address to delegates at Davos in protest against your divisive comments and continued failure to unequivocally apologize. We encourage likeminded peers to do the same."
On Thursday, wealthy liberal donor George Soros blasted Trump in a speech in Davos as a "danger to the world" and said Democrats were poised to win in a "landslide" in the upcoming midterm elections.
"The survival of our entire civilization is at stake," Soros told the crowd.
Trump kicked off his time in Davos with high-profile meetings with world leaders, including British Prime Minister Theresa May and Israeli Prime Minister Benjamin Netanyahu. He pushed back against suggestions that the U.S.-U.K. "special relationship" has grown strained under his administration and promised that trade between the two nations would "increase many times" over a "number of years."
"We love your country," Trump told May.
May's office said following the meeting that Trump would be visiting the U.K. sometime later in 2018. He had been scheduled to go to London in February, but canceled, citing the U.S. embassy's move in 2008. His in London appearance was expected to draw protests.
Later in the day, Trump and Netanyahu discussed plans for peace between Israel and Palestine. Trump threatened to stop aid to Palestine unless it returned to the negotiating table with Israel, earning him praise from Netanyahu.
Trump is scheduled to give an address Friday before he leaves the conference. According to the White House, he will speak in support of free trade, but argue that "it must be fair" and that the international economic system must be reformed.
"The president's message is very much the same here as it will be [in Davos]," press secretary Sarah Huckabee Sanders said in a statement. "He welcomes the opportunity to go there and advance his America First agenda with world leaders."
Jake Horowitz contributed reporting from Davos.