White roses will be worn on the 2018 Grammys red carpet in support of #TimesUp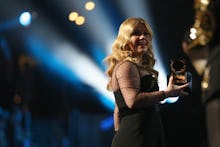 With all-black outfits already fading away in Hollywood, the music industry is now interested in creating its own sign of red carpet solidarity come Sunday night's Grammy Awards red carpet.
Artists and members of the music industry will be wearing white roses to the 2018 Grammys, according to the Associated Press, as a sign of support to the #MeToo and Time's Up movements. Times Up was formed by major members of Hollywood to help combat sexual harassment in Hollywood and workplaces beyond.
Kelly Clarkson, Dua Lipa, Halsey, Cyndi Lauper, Rita Ora, Tom Morello and the rapper Rapsody, who's the only woman nominated for best rap album in 2018, are confirmed to wear roses to the show, with hundreds of others reportedly confirming that they'll be joining in too.
The statement was thought up by Roc Nation senior vice presient Meg Harkins and Karen Rait, who runs rhythmic promotion at Interscope/Geffen/A&M Records, after realizing that the music industry had a duty to make some sign of support on what's known as "music's biggest night."
"We have not had the tsunami that politics and Hollywood has had, but we are still women," Harkins told the AP. "I would want to see men and women wearing white roses and I would like men and women to be able to have meaningful Grammy award speeches when those speeches happen."
The two women gathered with others for a meeting on Monday and on Wednesday sent out the first email asking people to wear a white rose. Why the white rose? For them it's symbolic of peace and hope, and the specific color of the rose was chosen as a little nod to the suffragette movement, whose members were known to wear white.
The most notable scandal involving a person in music being accused of sexual misconduct is Russell Simmons, who's recently been accused of rape.
Similarly to the all-black movement that began at the Golden Globes, organizers hope to not only raise awareness of Time's Up but encourage people to donate to the cause.