What Melania Trump wore her 53rd week as first lady — the one time we saw her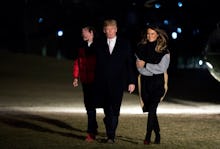 Rest easy, sweet readers, because despite a White House shitstorm involving a report that Donald Trump's lawyer payed a woman $130,000 to keep quiet after an alleged sexual encounter with Trump shortly after Barron was born in 2006, Melania Trump is acting like everything is (mostly) OK.
Yeah, we know that to commemorate her husband's inauguration on Jan. 20, Trump celebrated by posting a picture not of her and her husband on that day but a picture of her and another man.
And yeah, we know that neither she nor her husband recognized their 13th wedding anniversary on Jan. 22. And yes, we know she scrapped her plans to join her husband at the World Economic Forum in Davos, Switzerland at the very last minute. ("Scheduling and logistical issues" were blamed.)
But still, Trump got out and did at least one very normal first lady thing this week. On Thursday, she stepped out for a public appearance at the Holocaust Museum in Washington, D.C., ahead of International Day of Holocaust Remembrance this coming Saturday.
No official photographs were taken at the event, but Trump posted images of her visit on Twitter. She wore a grey tweed coat from Dolce & Gabbana, who remain Trump's favorite designers.
Shortly after, she jetted off to Mar-a-Lago, where she'll presumably spend most of the weekend.
You can see previous recaps of what Melania Trump wore here.